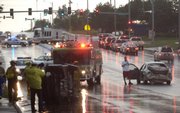 A 28-year-old Lawrence man fled his home Thursday evening and sped west on Sixth Street, causing a four-vehicle accident that spanned three blocks.
The man's own vehicle, a black Acura, ended flipped on its side on Sixth Street near Frontier Road, and he was transported to Lawrence Memorial Hospital.
According to hospital officials, the man was later transferred to a Kansas City area trauma center. Further details were unavailable.
Lawrence Police Sgt. Dave Hubbel said the chain of events started when the man hurriedly left his residence in the 2600 block of Moundview Drive after reportedly damaging his own house.
According to witnesses, he drove west on Sixth Street in the center turning lane at a high rate of speed, Hubbel said. Another vehicle was turning off a side street into the center turn lane to travel west when it was struck by the Acura, Hubbel said.
That vehicle was struck in the front and slid into the grass of the Sonic Drive-In entrance, 3201 W. Sixth St, Hubbel said.
Jay Howerton, 30, witnessed part of the accident as he was leaving Phillips 66 Miller Mart at 3300 W. Sixth St.
He said he heard a crunch, looked up and saw the black Acura drive west "tearing through traffic," out of control and strike a second car.
Hubbel said after hitting the first car the Acura spun around and went into the inside lane of westbound traffic and sideswiped a white Acura that ended up in the front lawn of Miller Mart.
"About the same time it hit a gray or silver Oldsmobile square in the rear end," Hubbel said. "It stayed on its wheels, but the black Acura then overturned onto its passenger side and came to rest against the curb."
Hubbel said the man was pinned in the car.
Several emergency vehicles responded to the accident about 6:15 p.m. at Frontier Road and Sixth Street. Police officers closed Sixth Street in both directions and redirected traffic.
No other injuries were reported from the accident. One man was treated and released at the scene.
Copyright 2018 The Lawrence Journal-World. All rights reserved. This material may not be published, broadcast, rewritten or redistributed. We strive to uphold our values for every story published.