Photo Gallery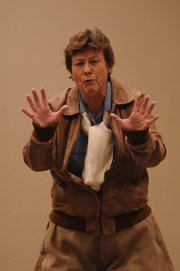 Chautauqua
In 1928, Amelia Earhart became the first woman to travel solo across the Atlantic Ocean and on Wednesday, exactly 80 years later, she told her story to children in Lawrence.
Well, someone who plays her did.
A group of children participating in the Youth Chautauqua Camp saw firsthand how the art of playing a historical figure is accomplished, and they heard about the 1930s from people who lived through the decade in Lawrence.
"I think they can get the real story," said Polly Reed, a Lawrence resident and "expert" source for the history students.
The young people will research, write a script and perform as a local historical character of their choosing on Sunday night at the Chautauqua tent in South Park in downtown Lawrence.
"I like history and I really like acting," said 10-year-old Courtney Cooper, of Lawrence. "(The experts) told a lot of really good, cool stories about what it was like in Lawrence during the 1930s."
The young historian-actors will do a character performance and answer questions both in character and as a researcher.
"They'll be so knowledgeable in five days, it'll just make Lawrence proud," said Joyce Thierer, a Chautauqua performer who portrays Calamity Jane. "What these young Chautauquans will know : they're going to make all of that Lawrence come alive."
The youngsters are ready to take the stage.
"I'm really excited to become a different person and act out," said Sadie Keller, 10, of Lawrence.
Grey Thornburgh, an 11-year-old from Topeka, said he was "a little bit nervous, but it's going to be fun."
The Kansas-Nebraska Chautauqua actors begin their performances of "Hard Times, Bright Dreams: America in the Thirties" tonight in South Park. They will be hitting the stage each night through Sunday. Pre-show entertainment starts at 7 p.m. and the actors begin at 7:30. Activities include music, re-enactments and educational workshops.
Today's Schedule
10 a.m.-4 p.m.: Dust Bowl traveling exhibit, Watkins Community Museum of History, 1047 Mass.
10:30 a.m.: "Agriculture Then and Now," workshop by Patrick McGinnis, Lawrence Visitor Information Center, 401 N. Second St.
1 p.m-5 p.m.: Youth Chautauqua Camp, Lawrence Public Library, 707 Vt.
1 p.m.: "Will Rogers: Film and American Society," workshop by Doug Watson, Lawrence Visitor Information Center.
3 p.m.: "Huey Long and State Innovation," workshop by Fred Krebs, Lawrence Visitor Information Center.
7 p.m.: "Will Rogers," by Watson, Chautauqua Tent in South Park, 12th and Massachusetts streets.
7:30 p.m.: "Franklin D. Roosevelt," by McGinnis, Chautauqua Tent.
'Bright Dreams, Hard Times'
Copyright 2018 The Lawrence Journal-World. All rights reserved. This material may not be published, broadcast, rewritten or redistributed. We strive to uphold our values for every story published.