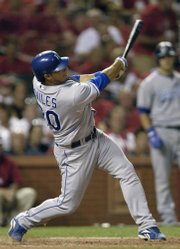 St. Louis — Two players who were minor-league teammates until late last month gave the lowly Kansas City Royals another dose of interleague success.
Mike Aviles homered to snap an eighth-inning tie, and Kyle Davies worked seven sharp innings in a 2-1 victory over the St. Louis Cardinals on Tuesday night.
"We have a good group of veteran guys and young guys here," Aviles said. "It makes for a good environment. Right now our record doesn't show that, but things are turning around."
David DeJesus had his sixth RBI in two games for the Royals, 29-42 overall and in last place in the AL West but a robust 5-2 in interleague play while taking two of three from Florida and Arizona. The opener of the three-game interleague series between cross-state rivals drew a paid attendance of 43,793, the Cardinals' fourth straight sellout.
"We've played well up to this point, and we just need to keep playing well," manager Trey Hillman said. "You also have to be a little fair with it. When a bat like (Albert) Pujols is out of the lineup, it takes a little pressure off."
Davies (3-0) allowed one run on five hits with four strikeouts and three walks, allowing only three runners to advance to scoring position. He's won three of four starts with a 1.46 earned-run average since being recalled from Triple-A Omaha on May 31.
"Location-wise, early in the game, wasn't very good at all," Davies said. "I got some guys to get themselves out, jam themselves a little bit and as the game got going it started to get a little bit better with location."
Joakim Soria worked the ninth for his 16th save to complete a five-hitter.
Copyright 2018 The Associated Press. All rights reserved. This material may not be published, broadcast, rewritten or redistributed. We strive to uphold our values for every story published.