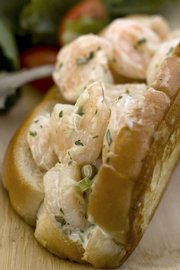 Here's a cool sandwich for a light supper during the summer months.
Shrimp Salad Rolls
3 cups water
1 bay leaf
1 clove garlic, halved
1/2 small yellow onion, cut in two
1 pound medium raw shrimp, peeled and deveined (thawed if frozen)
1/2 cup mayonnaise
2 cornichons, finely minced (about 1 tablespoon)
1 teaspoon minced capers
1/2 teaspoon whole-grain mustard
1 tablespoon lemon juice
1 tablespoon finely chopped flat-leaf parsley
1 teaspoon finely chopped chives
Salt and freshly ground black pepper, to taste
1 1/2 ribs of celery, finely chopped
4 hot dog buns
In a medium saucepan, combine the water, bay leaf, garlic and onion. Bring to a boil, then add the shrimp, cover and cook 3 to 4 minutes, or until pink and firm.
Drain the shrimp and rinse under cold water. Refrigerate until well-chilled, about an hour. When ready to serve, in a small bowl, mix together the mayonnaise, cornichons, capers, mustard, lemon juice, parsley and chives. Season with salt and pepper. In a larger bowl, mix together the shrimp, mayonnaise sauce and celery. Adjust salt and pepper as needed. In a toaster or on a hot skillet coated with butter or cooking spray, toast the hot dog buns. Divide the shrimp salad between the buns and serve immediately. Serves 4.
Copyright 2018 The Associated Press. All rights reserved. This material may not be published, broadcast, rewritten or redistributed. We strive to uphold our values for every story published.