Photo Gallery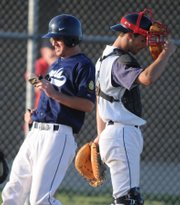 Raiders vs. Lawton, Okla.
Lance Lamborn sure seemed an unlikely candidate to plug the dike.
Yet Lamborn, making his Legion baseball debut, pitched the Raiders to an 8-4 victory over Lawton, Okla., in the second game of a doubleheader Monday night at Ice Field.
"He finally got an opportunity," Raiders coach Shaun Edmondson said of Lamborn, "and he did a tremendous job."
A slender 6-foot-1 right-hander, Lamborn went the full seven innings, allowing six hits and only one earned run after the Raiders had been pounded, 12-3, in the opener - their fourth loss in the last five games.
"I was pretty nervous," Lamborn said of his first competitive mound appearance in a year, "but I think I threw the ball well."
Lamborn, a McLouth High grad, hadn't been in a game since last summer when he hurled for a Tonganoxie Legion team. Then he was off to Kansas University, his days in a baseball uniform apparently over.
"After going to KU for a year, I decided I wanted to play again," Lamborn said, "so I e-mailed coach Edmondson and asked for a tryout."
Edmondson had an opening for another pitcher so he wasn't about to turn Lamborn down.
"He came and threw bullpen for us on the day before our first game," Edmondson said. "He seemed like a good kid and he threw good enough that we decided to keep him."
Edmondson had hoped to use Lamborn earlier, but rainouts prevented the college sophomore-to-be from making his first appearance for the Raiders until Monday night.
"Lawton was loaded with good hitters," Edmondson said. "They have a bunch of college guys or guys who are going to play in college, and Lance definitely did a good job changing speeds and filling up the zone."
Lamborn had the Colonels under control until he tired in the seventh and Lawton scored three runs on an error, a hit batter, a walk and a double.
"My arm really isn't up to speed because I haven't pitched in so long," Lamborn said, "but I tried to throw strikes."
The Raiders gave Lamborn an early cushion when Ben Wilson bashed a towering three-run homer over the left field fence in the first, then they added three more in the second on two singles and four of the 11 walks the Colonels surrendered.
The Raiders, 9-4, are off until Thursday when they'll meet the Ozark Merchants in the first round of the Al Ice Woodbat Classic at Hoglund Ballpark.
Copyright 2018 The Lawrence Journal-World. All rights reserved. This material may not be published, broadcast, rewritten or redistributed. We strive to uphold our values for every story published.