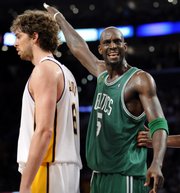 Los Angeles — The cases of champagne and the Larry O'Brien Trophy had to make the 2,900-mile trek from Los Angeles to Boston on Monday, and that might be what's best for Kevin Garnett. Game 6 of the NBA Finals will be at home, where his primal screams, jersey-popping, chest-thumping and floor-slapping inspire him as much as the raucous fans at TD Banknorth Garden.
The mere thought of being back in Boston, where he has been embraced by an NBA championship-starved fan base, brought a rare smile to his face after the Celtics' 103-98 loss to the Los Angeles Lakers on Sunday.
"It's going to be like coming into the Amazon, into the jungle," Garnett said of the boisterous atmosphere at the Garden.
The Celtics have gone without a title for 22 years, and Garnett is a huge reason the franchise is so close to banner No. 17. Garnett has mostly lived up to his billing in Boston, helping inspire the greatest single-season turnaround in NBA history - from lottery to one win from a title - with his passion and intensity.
But throughout a career in which he has won the league's most valuable player award, made 11 all-star teams and claimed this year's defensive player of the year award, Garnett has also earned a reputation as player who is allergic to clutch performances. He added more ammunition in Game 5 on Sunday.
"We let it slip right through our hands," Garnett said after scoring 13 points, grabbing 14 rebounds, picking up five fouls, missing three free throws in the final four minutes and failing to convert two late tip-ins.
The Celtics needed Garnett to have a big game with Kendrick Perkins out with a strained left shoulder, but Garnett spent most of the night committing silly fouls - including two unnecessary reach-in fouls on Pau Gasol that sent him to the bench. And when he was on the floor, Garnett was unable to impede Gasol or Lamar Odom, who combined to score 39 points with 24 rebounds.
He tied the game at 90 with a 13-foot jumper. But with 2 minutes 31 seconds remaining, Garnett stood at the foul line with an opportunity to tie the game and missed both free throws. Those misses came back to hurt the Celtics when they again had a chance to tie in the final minute and Paul Pierce was perhaps too casual when he dribbled the ball up the floor. Lakers guard Kobe Bryant poked the ball free from behind and sealed the win with a breakaway dunk.
As Bryant hung on the rim, Garnett lowered his head. He was much more critical of himself than usual after the game, as he uneasily rubbed his bald head while on the podium. "It was trash," Garnett said of his performance. "I can do better, and I will."
The Celtics brought the Lakers back to life in a game Los Angeles practically tried to lose, blowing 19-point and 14-point leads. Now Boston has to close out the series with Perkins likely out again, point guard Rajon Rondo hobbling and ineffective with an ankle injury, Ray Allen dealing with health concerns about one of his children, and Pierce having to play another game on his gimpy right knee. In addition, the Associated Press reported that the Celtics' flight from Los Angeles International Airport on Monday afternoon was delayed for several hours.
"The onus is on us," Garnett said. "I don't think there's any pressure at this point. I think we've definitely got to win Game 6, (go) out and set our feet in cement, so to speak, and establish something early and stay with it."
Garnett is averaging just 16.6 points and shooting 40.2 percent from the floor this series.
"The only thing I told Kevin is I thought he was playing extremely hard, but we have to play smart, too," Celtics coach Doc Rivers said.
Garnett hasn't reached 20 points since Game 1, when he had 24 points and 13 rebounds. Garnett had a huge rebound and dunk over Gasol in that win, but despite some huge baskets in the fourth quarter of Game 4, he hasn't been able to deliver when the Celtics need him most.
"I'm not perfect. I'll try to get better," Garnett said. "I just want to play better and put more of a stamp on the game and more of a presence on the game. That's really what the focus is for me right now."
Copyright 2018 The Lawrence Journal-World. All rights reserved. This material may not be published, broadcast, rewritten or redistributed. We strive to uphold our values for every story published.