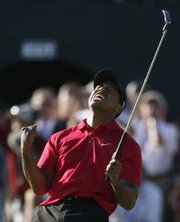 San Diego — Just when Tiger Woods couldn't possibly make magic happen again, he did.
As millions of prime-time TV viewers looked on Sunday evening, Woods rolled in a 10-foot birdie putt on the final hole to force an 18-hole playoff today with Rocco Mediate for the 108th U.S. Open.
For Woods fans, who had watched him limp around Torrey Pines on a bum knee to a 2-over 73 that was anything but memorable, that final putt was a thing of beauty, salvation. Downhill, with a slight break, it didn't so much run into the cup as it slithered in the side door.
"I just kept telling myself, 21â2 balls outside the right, but make sure you stay committed to it, make a pure stroke," Woods said. "If it plinkos in, or plinkos out, it doesn't matter, as long as I make a pure stroke. And I did. It took forever to break, but it finally snuck in there at the end."
When it did, the thousands filling the stands around the 18th green immediately erupted, and Woods did a double fist-pump, much like he did on Saturday, when he dropped a cross-town 50-footer for the eagle that kick-started his third-round charge.
That putt was more difficult, but Sunday's putt was more important. If it hadn't gone in, Mediate would have been the stunning upset winner.
Mediate, 45, closed with a steely even-par 71 for a 1-under total. Now, the No. 157th-ranked player in the world faces the No. 1 player in a playoff that begins at 11 a.m.
"Unbelievable," Mediate said as he watched Woods' putt go in. "I knew he would make it. You can't expect him to miss."
Mediate could only shake his head, marveling, as he has all week, at the force of nature that is Woods.
"I did all I could do," Mediate said. "I have nothing left right now. I'm toast. It was the most amazing day of golf I've ever experienced. This week has been a total dream."
As happy as Woods was to have played his way into a chance to win his second Open and his 14th major today, one big question hanging in the air is the condition of his surgically repaired left knee, which clearly pained him all day.
Several times, especially after tee shots, Woods almost crumpled in pain. More than once he hobbled up the fairway, learning on his driver as if it were a cane.
Will the knee hold up today?
"It's going to have to," Woods said.
Copyright 2018 The Lawrence Journal-World. All rights reserved. This material may not be published, broadcast, rewritten or redistributed. We strive to uphold our values for every story published.