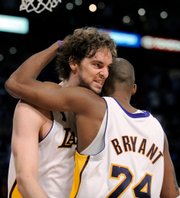 Los Angeles — Pack up the championship trophy and book a flight back to Boston. The NBA finals aren't over yet.
The Los Angeles Lakers are headed East to try a historic comeback of their own.
Kobe Bryant scored 25 points, including a decisive dunk in the final minute - and Lamar Odom added 20 as the Lakers, playing with pride on their star-studded stage, prevented the Celtics from winning a 17th title with a 103-98 victory in Game 5 on Sunday night to close to 3-2 in this restored rivalry.
"We've won on the road before," Bryant said. "We've played in tough environments."
The Lakers, who blew a 24-point lead and lost Game 4, nearly squandered a 19-point lead in Game 5.
Copyright 2018 The Associated Press. All rights reserved. This material may not be published, broadcast, rewritten or redistributed. We strive to uphold our values for every story published.