Psychic Kids
When: 9 p.m. today
Where: A&E; Network, Sunflower Broadband Channels 47 and 247.
On the street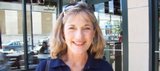 No, I don't. I think that people who seem to be psychic have incredible powers of observation and are able to deductively arrive at conclusions that maybe other people miss.
"Sometimes I feel strange," Ahli Arkeketa says. "How do I put this ..."
The 12-year-old stops, wrangling to find the right words to describe her reality.
It's difficult when the way you see the world, the way you experience life, is different from the way most others do. Usually, it's not strange to her - it's just the way things are.
"It feels good to know I help people," she finally says.
Ahli says she is a psychic - she claims to see auras, has seen and heard spirits, has predicted others' health problems and, recently, has begun doing intuitive energy healings.
Not many people know about her claimed abilities. That will change tonight when the Lawrence girl is featured on the first-ever episode of "Psychic Kids," a series on the A&E; Network.
The show airs at 9 p.m. today on Sunflower Broadband Channels 47 and 247.
Ahli's family was hesitant to thrust her into a national spotlight, unsure how friends and their church - First Baptist Church - would react.
But her mother, Anita Arkeketa-James, says years of uncertainty and health problems - both mental and physical - convinced them the benefits of being on the show might outweigh the drawbacks.
Ahli has had migraine headaches for years, and she's been diagnosed, at varying times, with attention deficit disorder, attention deficit hyperactivity disorder and childhood schizophrenia. Arkeketa-James says she was hoping being on the show - and meeting hosts Lisa Miller, a clinical psychologist, and psychic Chip Coffey - would help them understand what Ahli was experiencing.
"There was a lot to think about - a lot to deal with," Arkeketa-James says. "I always thought psychics are full of baloney."
The episode, which was filmed in March in Indiana, follows the experiences of three children who claim to be psychic, including Ahli.
Healing power
Ahli, who will be a seventh-grader at South Junior High School, did an intuitive healing as part of the taping and has done healings with five people since then for maladies ranging from asthma to back pain. To do a healing, she says, she runs her hands a few inches above a person's entire body to determine what ails them.
"I feel a tingling, warm sensation in my hands," she says.
Then, she focuses her energy and lays hands on the subject for the healing portion of the experience.
She recently attended a reiki healing workshop to learn principles of that discipline. Since she only recently realized her healing gift, she says she wants to hone her skills.
"It's a goal to be better," Ahli says. "That's my goal."
Vali Larrick, a longtime family friend, is a believer. Larrick has a herniated disc in her back that caused enough pain she missed several weeks of work. She allowed Ahli to do a healing on her back, and she returned to work the next day.
While she's not pain-free and continues to seek medical treatment, Larrick says she's convinced the healing eased her pain greatly.
"I'm not a skeptic," she says. "I believe things like that can happen. ... It's pretty amazing to me."
More accepted
Nancy Baumgarten has seen enough of these types of cases to be convinced some children do, in fact, have psychic gifts.
The North Carolina woman has a daughter - now 23 years old - who claims to be psychic. Baumgarten started a camp for psychic children in 1999, to give them a chance to be around other children with similar talents.
Baumgarten says most parents begin realizing their children have psychic abilities when they are around the age of 5.
"But they're communicating with the unseen world from the time they're infants," she says.
She says healing powers are more rare than psychic abilities, which can range from seeing spirits to predicting the future.
Baumgarten started the camp - which draws between 30 and 40 children yearly - because she worries what will happen to them if they don't meet peers like them.
"It's becoming more and more recognized," she says of psychic children. "They're more able to get comfortable in their own skins about it. We have plenty of families coming from a Christian background. Hard-core religious people are more afraid of it than anyone."
Blessing?
As tonight's episode prepares to air, Arkeketa-James says she's still trying to reconcile her daughter's talents with the family's Christian beliefs.
These aren't miracles, Arkeketa-James says. It's just healing.
"Some of these gifts - maybe all of these gifts - are from God," she says. "They're very lucky kids. They're just blessed. And as a society, we want to squash them."
George Plamondon, executive producer of "Psychic Kids," says he and others involved in the show are skeptical of the children's claims.
"And we realize most of the audience will see it that way," he says. "We ask the same questions. It's hard to prove someone is a psychic."
Plamondon says he's not convinced either way after producing six episodes. But he's had enough experiences - such as a child who predicted what a filming site would look like - to be intrigued.
For now, Arkeketa-James says her family is trying to determine the next step for Ahli and her abilities. She knows that being part of the show and understanding her talents has made Ahli a happier and healthier person - she hasn't had a migraine in the three months since the filming.
"We're in a discovery phase," Arkeketa-James says. "We don't know what she can and can't do."
Copyright 2018 The Lawrence Journal-World. All rights reserved. This material may not be published, broadcast, rewritten or redistributed. We strive to uphold our values for every story published.