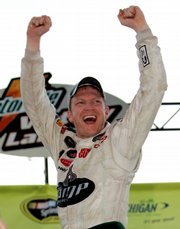 Brooklyn, Mich. — Dale Earnhardt Jr. is enjoying that old winning feel and he doesn't much care what his detractors have to say about it.
"I can understand how it might look, especially if you're not Dale Jr. fans," Little E said Sunday after ending a 76-race winless streak by stretching his last fuel load beyond the limit at Michigan International Speedway. "I know exactly what they're going to say (today).
The most popular driver in NASCAR won this one by gambling, somehow going the last 55 laps on the two-mile oval, including three laps of overtime, without stopping for gas.
He gave most of the credit for his first win in more than two years to crew chief Tony Eury.
"We came in on that last stop and we were going to be about six laps short, and I saved six laps of gas," Earnhardt said. "So, (we were) just real lucky. I have to hand it to Tony Jr. for being a risk-taker. ... He's done a good job this year getting us good finishes, better finishes than we should probably have."
Kasey Kahne, coming off a victory the previous week in Pocono, finished second and almost came up with his fourth victory in his last five starts, including the non-points all-star race last month in Charlotte.
Matt Kenseth finished third, followed by Brian Vickers, Tony Stewart and two-time defending Cup champion Jimmie Johnson.
Copyright 2018 The Lawrence Journal-World. All rights reserved. This material may not be published, broadcast, rewritten or redistributed. We strive to uphold our values for every story published.