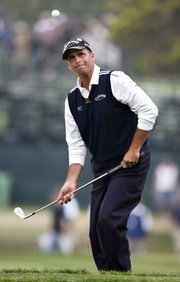 San Diego — It was a prime-time production of "Agony and Ecstasy" starring Tiger Woods.
Hobbling on a bad knee that at one point had him almost hitting the ground in pain, Woods looked like the wounded warrior early on Saturday.
Agony.
But just when his situation appeared to be at its bleakest, our hero hit some of the most memorable shots of his career.
Ecstasy.
For the fans watching in the Eastern and Central time zones, it was a thrilling way to spend a Saturday night.
Woods made dramatic eagle putts on 13 and 18 and added a chip-in birdie for good measure on 17 for a 70 during the third round of the U.S. Open. At 3-under, he is one shot ahead of England's Lee Westwood and two in front of Rocco Mediate.
Woods is in perfect position to claim his 14th major and his third U.S. Open. Normally, you say it is a done deal considering he is a lock with the lead in a major.
However, his knee has become a big wild card. When asked if it is getting worse, he said, "Yes it is."
Yet here Woods is on the threshold of winning again, obstacles and all.
Woods started terribly as the first hole bit him again. After driving his ball in the rough and hitting two poor chip shots, Woods missed a 4-footer and took a double-bogey six. He also opened with a six Thursday. So he probably will take anything five or better today.
Woods then made a bogey on four to go to 1-over. He finally got into the birdie column on the par 4 seventh. But after dropping a shot on 12, he looked like he had nothing going into the par 5 13th.
Turns out, Woods was just waiting for the lights to go down on the East Coast. After hitting the green in two, he faced a 50-foot putt that NBC's Johnny Miller said could roll completely down the hill if it slid past a treacherous front pin.
Instead, Woods hit a perfect putt, and you almost could hear the nation roar as the ball went into the hole for an eagle. The stunning putt will be added to Woods' huge highlight library.
"I was just trying to lag it down to 3 feet and it went in," Woods said.
Woods, however, wasn't done. After a bogey on 14, he holed out a chip on 17 for birdie. He had sheepish look on his face as the ball went into the hole.
"I didn't want to hit it that hard," Woods said. "Pure luck."
Then Woods caught Westwood with an eagle on the par 5 18th. That means he won't have a chance for his first comeback victory in a major.
Woods won't be facing the toughest competition today. Mediate is 45 and hasn't won an event in six years. He has been hampered by back issues.
Westwood, meanwhile, never has been a factor in a major on Sundays. He came into this tournament reeling from a virus. So he is surprised to be in this position.
"I didn't have any expectations," Westwood said. "Sometimes you play better when you don't have expectations."
Copyright 2018 The Lawrence Journal-World. All rights reserved. This material may not be published, broadcast, rewritten or redistributed. We strive to uphold our values for every story published.