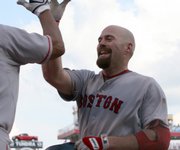 Interleague
Red Sox 6, Reds 4
Cincinnati - Kevin Youkilis did it all in his homecoming.
Youkilis singled, doubled and hit a tiebreaking homer in the 10th inning Saturday, rallying the Red Sox over the Reds, the team he adored as a local prep and college star and later resented when it passed him over in the draft.
With more than 140 relatives and friends in the stands, the first baseman connected in the 10th off Mike Lincoln (0-2) to snap a 4-all tie and save the Red Sox from one of their most stunning meltdowns on the road. Coco Crisp homered off Lincoln on the next pitch.
Tigers 12, Dodgers 7
Detroit - Miguel Cabrera and Marcus Thames homered, and Detroit scored nine runs in the fourth and fifth innings combined.
Cabrera, Thames, Curtis Granderson and Edgar Renteria each drove in two runs for the Tigers, who won their fifth straight game and seventh in their last eight.
Cubs 6, Blue Jays 2
Toronto - Jason Marquis tossed seven-plus innings to record his third consecutive victory, and Reed Johnson hit a three-run homer.
Marquis (5-3) faced one batter over the minimum during the first four innings and didn't allow a hit until Lyle Overbay led off the bottom of the fifth with a single to right-center. He departed after seven-plus innings having allowed one run and four hits.
Yankees 8, Astros 4
Houston - Mike Mussina pitched six solid innings for his 10th win and helped put the New York Yankees three games above .500 for the first time this season.
Padres 8, Indians 3, 10 innings
Cleveland - Kevin Kouzmanoff's grand slam highlighted San Diego's five-run 10th inning.
San Diego pitchers Cha Seung Baek, Heath Bell (4-3) and Bryan Corey held the Indians to four hits. Baek and Bell combined to retire 23 of 24 hitters, including 19 straight.
Rays 4, Marlins 1
St. Petersburg, Fla. - Matt Garza pitched seven strong innings, and Jonny Gomes homered in his first at-bat since serving a five-game suspension for his part in a bench-clearing brawl.
Rockies 2, White Sox 0
Chicago - Willy Taveras stole a career-high five bases, spot starter Jorge De La Rosa pitched the best game of his career and Colorado snapped Chicago's nine-game home winning streak.
The Rockies won despite going 1-for-15 with runners in scoring position. Taveras failed to score a run despite his five swipes. He has 29 in 31 attempts this season.
Orioles 8, Pirates 7
Baltimore - Oscar Salazar homered in the ninth inning, and Ramon Hernandez added a two-out RBI single to end a back-and-forth duel.
Baltimore overcame four homers by the Pirates and rallied from deficits of 2-1, 5-4 and 7-6.
Twins 9, Brewers 4, 12 innings
Milwaukee - Prince Fielder thought he'd ended the game with two outs in the 10th inning with a drive off the center-field wall that highlighted the discussion for instant replay.
Fielder's shot appeared to hit the yellow line, but not go over the wall after Carlos Gomez attempted a leaping catch. He settled for a triple, and Mike Cameron grounded out weakly to end the inning.
Athletics 4, Giants 0
San Francisco - Rich Harden pitched one-hit ball for six innings and matched his season high with nine strikeouts, and Kurt Suzuki hit his first career triple.
Harden (4-0) walked two while facing only two batters over the minimum.
Braves 9, Angels 4
Anaheim, Calif. - Charlie Morton won in his major-league debut, Brandon Jones hit his first career homer and Mark Teixeira had three RBIs.
Morton, whose contract was purchased from the Braves' Triple-A Richmond club earlier in the day, allowed three runs and five hits in six innings with four strikeouts and a walk.
Nationals 5, Mariners 2
Seattle - Jesus Flores hit a tiebreaking two-run home run in the sixth inning to lift the Nationals.
Tyler Clippard (2-0) picked up the win.
National League
Cardinals 3, Phillies 2
St. Louis - Kyle Lohse pitched a season-high eight innings of four-hit ball, and Adam Kennedy hit a two-run home run, helping St. Louis rebound from their worst loss at 3-year-old Busch Stadium.
Lohse (8-2) was hurt only by Pat Burrell's two-run homer in the fourth.
Copyright 2018 The Associated Press. All rights reserved. This material may not be published, broadcast, rewritten or redistributed. We strive to uphold our values for every story published.