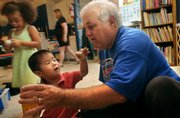 At a community music class with their children, Dave Kennicott was told by another full-time father that dads like them are like unicorns in a forest -you hear about them, but you don't often see them.
The most likely place for the stay-at-home or full-time dads to see other adults is at a grocery store. That's where Kennicott, 39, receives stares or even compliments about what a good job he's doing as a dad of three children all under age 5.
Unlike a fairy tale filled with rainbows and unicorns, Kennicott's reality, like other fathers such as Martin Shupert, who runs an at-home day care, is filled with twists he hadn't quite planned.
Shupert, 57, who runs Jayhawk Home Daycare, recalled this memory from the summer of 1969 in Indiana, when his father worked the second shift at a factory: "I would wait up all night so I could tell him four words: Cubs lost, Mets won."
It was one of the few exchanges aside from some weekends he and his father shared.
"You get what you get," Shupert said.
Well, his children are getting a whole lot more, and their memories likely will be filled with dad, home and lots of other kids.
Shupert always knew he wanted to work with children. "I wanted to be the best dad. That was one of my goals in life. I was going to be the best dad in the world."
He started out in day care service but financial security put that on the back burner for several years. He held various positions in the social services in Lawrence, each leading to a better income than the former. In 1994, he married his wife, Rebecca, coordinator of clinical services for DCCCA. They have two children, Ella, 11, and Cole, 7. When Cole turned 1, Shupert decided to return to day care and better yet, in 2003, he started the day care at his home near 22nd Street and Clinton Parkway.
Over the years Shupert has had steady business. He and two part-time assistants care for a dozen or so children from the ages of 2 to 6. They spend hours playing outside and singing songs Shupert wrote.
Shupert was skeptical at first, however.
"What if nobody comes?" he wondered. "I'm sort of self-conscious about being a man in this."
Earlier, someone put it to him like this: "Someone told me to look around my room," he said. "There were about 12 1-year-olds. Ten of them were from single moms. I think it was a mother who told me, 'You are what my son needs.' So I started thinking of it in those terms and really, in today's world, 50 percent of the kids who come here are from single mothers raising kids, so they really do miss the other role.
"So when you look into the idea of it being a nontraditional job, it's not a traditional world anymore."
Shupert has received calls from people looking for the Jayhawk day care director and expecting to hear a women's voice. Some hang up when they learn the Shupert is the director.
"I have fought the idea that if I was doing this I was whipped, or my sexuality was questioned," he said. "So those sort of attitudes are still around."
Kennicott sometimes gets puzzled looks when meeting other men for the first time, outside of music and gymnastic classes that is. "Hi, I'm a full-time dad," doesn't fit the typical introduction.
"It makes me sad. I think men put a lot of weight on their identity with the job that they do," he said. "I think of my children as my life's work, more than anything else. I'm very passionate about the care that they're getting. I'd hate to pawn it off on someone else just so I can have a job."
Kennicott has worked as a goldsmith but his passion is to become an art professor. Since graduating from Kansas University's fine arts school he's tried the past two years to get a professorship with no success. With his two sons Sebiyam, 5, and Sedgiku, 3, school-age now, he decided to work part time as a teacher at Prairie Moon Waldorf School.
"I'm proud of my son," his mother, Mary Kennicott, 74, said. "It's hard to swallow your pride and do something you hadn't planned on doing."
His wife, Lori, a high school teacher in De Soto, definitely didn't see her life panning out this way, but it's good for now.
"I was the one who really wanted to be at home with the kids, but that's just not how it worked out," she said. "I'm glad that one of us can stay at home with the kids."
And Dave Kennicott wouldn't have it any other way right now. If he was working, he'd just be spending money for strangers to be with his kids, he said.
"How gratifying is that?"
During a pause in the middle of playtime, Sedgiku, 3, stopped to look at his father and say, "Dadda, I love you."
"That's the greatest gift," he said.
Copyright 2018 The Lawrence Journal-World. All rights reserved. This material may not be published, broadcast, rewritten or redistributed. We strive to uphold our values for every story published.