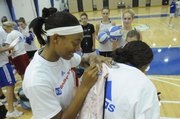 For soon-to-be high school sophomores Dashawn Harden and Natalie Knight, the path to a college basketball career took a step forward this week at Kansas University's Elite Camp.
They practiced like the Jayhawks practice, lived like the Jayhawks live, and got a look at a school they hope to attend.
"I'd like to, yeah," Knight, of Olathe South High, said of possibly going to KU. "My dad's brothers played here, and the whole family likes KU."
Both Harden and Knight have hopes of hitting the hardwood under coach Bonnie Henrickson someday. Harden, who attends St. Thomas Aquinas in Kansas City, already gave KU a verbal commitment.
Henrickson prepared the players by running her camp the same way she ran practice.
Players at the camp worked with current Jayhawks, an experience Henrickson said could help campers.
"My point to the campers was you would be foolish not to ask or not to listen because they've (current Jayhawks) been exactly where you've been, and it hasn't been that long ago," Henrickson said. "It's fresh for them. It's vivid how you might feel about the anxiety or the questions you have about how do I get to that level, what do I need to do? Our kids understand that."
The camp lasted from Thursday to Saturday. The girls had the chance to live the dorm life and make friendships with players from around the country.
"You see them trading phone numbers and e-mail addresses," Henrickson said. "It opens your world. We've all had those experiences as campers, and sometimes that's as much fun as some of the other stuff."
While interaction with other players off the court added to the fun, players also came away with an idea of what it took to reach the next level.
Knight spent her time working on her explosion to the basket and getting her shot off, while Harden improved her decision making while handling the ball.
"It was an eye-opener," Knight said. "The level of intensity is completely different."
The next summer camp session is the individual camp, which runs June 22-25.
By attending, campers get the opportunity to check out KU's campus. And perhaps earn scholarships - if not at Kansas, perhaps elsewhere.
"We've got 70-some kids," Henrickson said. "Not everybody in this gym can play at Kansas, but there are places for you to play, and you should do your homework. We talk to them about the process and what they want to do, and then help them to get to that level."
Copyright 2018 The Lawrence Journal-World. All rights reserved. This material may not be published, broadcast, rewritten or redistributed. We strive to uphold our values for every story published.