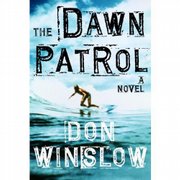 On the street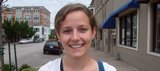 I am reading 'The House of Spirits,' by Isabel Allende. It's about the history of an unnamed Latin American country that revolves around a family living there.
Los Angeles — Detective novelist Don Winslow was sitting on the patio of a Laguna Beach cafe with a view of the ocean below, looking like a private eye trying to avoid detection.
Winslow, 54, was talking about the strip of the coast that runs from San Diego through southern Orange County.
"What I think is emerging is a different kind of society based on the amazing ethnic variety. San Diego County no longer has any ethnic majority. Look around you," he said, pointing across a clientele that included Asian, Pacific Islander, Hispanic and Caucasian diners.
"It's also developing its own language, with little bits of Hawaiian and Filipino and Spanish, especially when you mix the language of surf culture, which has always been fun to me. I wanted to write in that new language, about that new scene."
Winslow's new novel, "The Dawn Patrol," is set in that milieu, with a Japanese police officer nicknamed Johnny Banzai, a Hawaiian drug mogul named Red Eddie, a collection of migrant workers from Mexico and a cast of Anglos that includes the macho strip-club owner Dan Silver and the uptight lawyer Petra Hall. Although the story never gets more than a few miles from the ocean, it spans a wider world, indeed.
The book's core is a collection of five friends who, despite working jobs that sometimes bring them into conflict with each other, meet at sunrise each morning to take the early waves as the Dawn Patrol. Among them is Boone Daniels, an ex-cop with a beat-up van who runs a private-investigation office above a surf shop.
"The Dawn Patrol" - which could be a breakthrough novel for Winslow, who has garnered praise from James Ellroy and Ian Rankin without becoming well-known - seems an inevitable step for a writer who's about a decade into a career of setting noir novels in Southern California.
With short chapters, comic characters, hairpin plot turns and snappy dialogue, the novel can feel lighter than air. But it includes a considerable amount of violence, a heartbreaking subplot and its share of sleazy characters.
"One reason I find SoCal so interesting is that there's so much beauty - and that's real," Winslow said. "But there's another layer underneath it that's not so pretty. One thing I wanted to do was run those two tracks simultaneously - without backing off of either."
Wild career path
Winslow's hometown, next to the Rhode Island fishing village of Matunuck, was a place where poverty was close - if you don't study hard, parents told their kids, you'll be sweeping fish guts off the plant floor.
But he retains an affection for the years Winslow calls a "khaki-collar" upbringing. He's the son of a Navy noncommissioned officer father who was "a great raconteur" and a librarian mother who encouraged him to read widely - the best possible preparation for becoming a writer.
Winslow moved to New York in the late 1970s to help a friend manage movie theaters. When the job fell through, he became a private investigator working off Times Square and busting pickpockets in movie theaters. That, he said, was fun and offered a paycheck, but didn't seem to be leading anywhere.
That was followed by a master's degree in military history, years leading safaris in Kenya and hiking trips in China and, eventually, gigs as a consultant and investigator on the West Coast.
In 1991, he wrote "A Cool Breeze on the Underground," set amid London's punk scene and written in tents and buses all over the world, but wasn't making much money.
By the mid-'90s, fascinated and inspired by views of the Pacific Ocean, he moved here with his wife, Jean, and infant son.
"We lived in hotels and residence inns, in Orange County and San Diego, for close to three years, and it was great."
He wrote and surfed - not well - at San Onofre and Laguna.
Hollywood interest
Along the way, he kept writing until, in 1997, his novel "The Death and Life of Bobby Z" - a thriller written on the commuter train between San Juan Capistrano and downtown Los Angeles - took off. Warner Bros. bought the rights to it one day, and Knopf publishers a few days later.
"And my life changed, literally, overnight."
After six books, he quit his day job.
He has also written screenplays, and his 2006 novel, "The Winter of Frankie Machine," is in pre-production, with Michael Mann directing and Robert De Niro in the lead.
"Winslow is the kind of writer who once you read him, you can't wait for the next one," said novelist T. Jefferson Parker, who first read the author with 1999's "California Fire and Life."
It's clear that Winslow is more interested in the characters and their argot than the technical or physical side of surfing. His larger-than-life characters are among his novels' pleasures.
Winslow's private eye, Daniels, seems like a laid-back dude who thinks everything tastes better on a tortilla. Over the course of the book, Daniels shows himself to be tormented, heroic and complicated.
"I wanted a lead character who embodied the ocean," Winslow said. "So in the sense that if you look out there at it now, it looks very placid, but that can change in a heartbeat. There's something going on underneath."
Copyright 2018 The Lawrence Journal-World. All rights reserved. This material may not be published, broadcast, rewritten or redistributed. We strive to uphold our values for every story published.