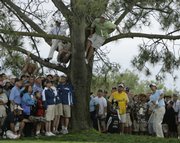 San Diego — Tiger Woods still can charge on one leg.
Woods limped around the course at times Friday as his surgically repaired left knee continued to remind him that he is human. But just when it appeared as if he was beaten, he gave another superhuman display on the golf course.
Woods played his final nine holes in 30 to come in with a 68 after the second round of the U.S. Open at Torrey Pines. He sits in a three-way tie for second at 2-under with Rocco Mediate and Robert Karlsson, one shot behind leader Stuart Appleby.
Woods now goes into the weekend primed to win his third U.S. Open on a course where he already has six victories. Appleby could think of only one way to stop him.
"I'll be doing my best to accidentally throw a club toward his sore knee," Appleby said. "It would be an accident, of course."
If Woods' knee is bothering him, he isn't about to share it with everyone else. He clearly doesn't want to make it an excuse, giving brief answers on the subject.
"People want to know. People are curious," Woods said. "And all I can tell you is it's sore. It is what it is. Nothing more, nothing less."
Woods' game appeared to be wounded early Friday. Beginning his round on the back nine, he opened with bogeys on two of his first three holes. Despite making an eagle on the par-5 13th, he was at 3-over for the tournament with bogeys on 16 and 17.
Woods seemed set to lose another shot when his drive landed near a tree on No. 1, his 10th hole on the day. With a stance on the cart path, Woods took a big swing, coming through hard on that left knee. He winced and walked away limping.
The ball, though, didn't feel his pain, landing on the green. Woods then made the birdie putt, and the run was on.
"Whether you call it a zone or not, it just feels like it's a nice rhythm," Woods said. "Been there before. But today I was just trying to get back to even par, to be honest with you. And I just happened to make a couple more putts. That's about it."
The long layoff after knee surgery didn't appear to be bothering Woods.
"I've been down this road before where I've taken a number of weeks off," he said. "It just makes your practice sessions more important. How you practice, how you build, and how you keep progressing right into the tournament."
As is often the case, Woods smoked Phil Mickelson in their two-round pairing. Mickelson slipped backward with a 75 to drop to 4-over.
Appleby is no stranger to being high on the leaderboard at a major. He has been in contention several times, including losing in a playoff at the 2002 British Open.
Now 37, Appleby wants to get over the hump.
"Do I think I am more comfortable (in majors)?" Appleby said. "Yeah, I guess I might be. I think as you get older, you have to find a way to be more comfortable."
One of the perennial Tiger-chasers, Davis Love III, also is rebounding from an injury.
He has gone through a rough year battling after undergoing ankle surgery last October. He has yet to post a top 10 finish in 2008 and didn't even qualify for the Masters. He had to go through U.S. Open qualifying to get into this tournament.
So Love felt good to be back in contention after a round of 69 left him at 1-under.
"I'm looking forward to just trying to get better and better," Love said. "Getting your confidence back is a hard thing."
Appleby's putt cuts 11
With a 45-foot putt on the par-5 18th, Stuart Appleby rolled into the lead of the U.S. Open and knocked out 11 players, including 2007 Masters winner Zach Johnson.
"Bingo," the Australian said about his putt that gave him a 1-under 70 and a two-day total of 3-under 139. He's a stroke ahead of Tiger Woods, Rocco Mediate and Robert Karlsson.
Appleby's putt certainly was worth a salutation of "Good on ya, mate."
He got his line right and tried not to hit it too hard.
"Typical stuff when you're at 50 feet," he said. "You're trying to just use your natural feel. I hit it and I thought, 'Well, that looks up, it doesn't look long.' Because it didn't have that feeling off the putter. Probably a couple seconds out, I thought, 'This could go in.' Then the crowd does their thing, and it all adds to what looks like a good putt."
Had the putt missed, Johnson and 10 other players who were 8-over-par would have made the cut to play the weekend. Instead, their tournament was over.
Perspective
Mark O'Meara, the 1998 Masters and British Open winner, was among those who missed the cut by a stroke, but he took it in stride.
"I'm 51. What the hell. I'm out here," he said.
O'Meara once lived in San Diego County and won the Buick Invitational at Torrey Pines in 1997.
Flood of concerns
Zach Johnson made only four birdies to go with eight bogeys and two double bogeys in his 36-hole total of 8-over 150, but he was more concerned with the situation in his hometown of Cedar Rapids, Iowa, where rising floodwaters Friday forced the evacuation of a downtown hospital and sent thousands of residents fleeing for higher ground.
"I'm playing golf, you know? In the grand scheme of things, it really means nothing," the 2007 Masters champion said.
Copyright 2018 The Lawrence Journal-World. All rights reserved. This material may not be published, broadcast, rewritten or redistributed. We strive to uphold our values for every story published.