Photo Gallery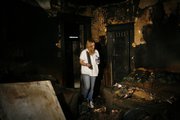 House fire
It was a night of highs and lows for Shannan McCawley and her family.
Her son and niece received their GEDs on Thursday night. Then, she received two text messages telling her that her home at 1141 N.Y. was on fire. Lawrence fire officials said Friday that the blaze was due to faulty electrical wiring.
The house she grew up in, where she lives now with her fiance, seven children ages 2 to 17 and her son's girlfriend, was in flames.
A day later, after spending the night with relatives, the family was dazed.
The uninsured home sustained an estimated $106,000 in damage, but McCawley said, "We're blessed, we're very blessed. We all had faith that (God) had us out of the house for a reason."
As McCawley and her children attended the GED graduation ceremony, her fiance, Richard Turner, slept upstairs. He was awakened by the smoke detector.
Turner said he looked for the children, then remembered the family was out of the house. He made his way downstairs, seeing thick smoke and the reflection of flames off the stove. He thinks the blaze started behind the refrigerator.
Firefighters arrived on scene about 7:40 p.m. and declared the scene under control at 8:14 p.m.
Turner said he was grateful that a drawback of the early 20th century home - asbestos-ridden plaster - saved him. He theorized that the material held up better against the flames than what is used to build houses today.
The hardest thing to accept, said Turner and McCawley, is that this all could have been avoided.
In March, they applied for a loan from the city's Neighborhood Resources Division to repair old wiring, remove asbestos and complete other improvement projects.
McCawley claims they were initially approved. But a few weeks later, after an inspection team surveyed the home, McCawley said that approval was rescinded because the work needed to rehab the home exceeded the $25,000 grant.
"The worst part is it's my mama's house," she said, "and I feel like if we got the assistance we needed, it wouldn't have happened."
Larry Hamm, the city's housing projects coordinator, said the family was never approved for a loan.
"Nobody's approved for anything before we sit down with them," he said, adding that the cost to repair the home would have put a burden on both the program and the family.
The house is not a total loss, but the family is not sure how it will rebuild.
The assistance of family, neighbors and the Red Cross may help.
Turner said he was on the phone with family from Lawrence to Atlanta on Thursday night. Mintoy Tolbert, a neighbor who said she called the house a second home as a child, said friends plan on starting a charity fund at Douglas County Bank. Additionally, she donated some of her children's clothes to the family.
"I don't have much, but I'm willing to do what I can," she said.
The family lost all of its photographs, many of the children's toys and many of the possessions left by McCawley's mother, who died several years ago.
"It's kind of a long road ahead," Turner said. "Patience and prayer is what's going to get us through this."
Copyright 2018 The Lawrence Journal-World. All rights reserved. This material may not be published, broadcast, rewritten or redistributed. We strive to uphold our values for every story published.