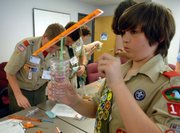 Blencoe, Iowa — With a tornado barreling toward them, Boy Scouts at a western Iowa camp sought shelter in the one place they thought they were safest: a cinderblock building where they normally gathered to socialize.
But with no basement or inground shelter, dozens of Scouts were left vulnerable when the twister, packing 145 mph winds, leveled the building and toppled its stone chimney on Wednesday, killing four boys and injuring dozens more.
Now, some parents vow to raise money to build a storm shelter at the camp - and questions are emerging about whether the Boy Scouts should be better prepared at all their camps for severe weather in a part of the country known as "tornado alley."
"To have a camp and not have a place where kids can go, it's insanity I think," said Joel White, whose 18-year-old son, Thomas White, was a supervisor at the camp when the storm hit.
His son agreed.
"There was no good place to go ... It was either be in the cabin and hope it didn't get hit, or take your chances and lie on the ground," Thomas White said. "I think there should have been at least ... some sort of storm shelter or something that could stand up to a tornado, cause these cabins had no chance."
Lloyd Roitstein, Scout Executive with the Mid-America Council of the Boy Scouts of America, said the two most frequently used camps among the six the council owns have storm shelters. He said the council will discuss adding shelters, but he's not sure it makes sense.
"One of the things you learn in Scouting, one of the skills you learn is what happens when you're out in the wilderness and severe weather," Roitstein said. "And we teach them of course to go to the lowest-lying area, go into a ditch and get down as low as you can. Because when you're out hiking in the mountains or canoeing down a river or whatever, there's not storm shelters."
In the case of Wednesday's storm, Roitstein said Scouts and leaders did the right thing by seeking the best shelter available. The boys took cover under tables in three buildings at the camp, one of which the tornado destroyed.
"It was handled properly, and we're proud of these young men," Roitstein said.
Bryan and Arnell Petrzilka of Omaha, whose 14-year-old son, Ben Petrzilka, was killed by the tornado, "are very passionate" about raising money for a shelter at the 1,800-acre Little Sioux Scout Ranch, and possibly other camps, said family spokesman John Nordmeyer, Ben's uncle. A fund has been set up at Omaha State Bank.
Nordmeyer said the family is not blaming the Boy Scouts and that there are risks to anyone who camps.
"The tragedy is what it is for Ben and the loss is what it is," Nordmeyer said. "But ... we can learn from it and we can be better prepared (so) that no other Scout will be in this position."
Western Iowa is in the so-called "tornado alley," a part of the country stretching from northern Texas to southern Minnesota that experiences a high frequency of tornadoes.
Forecasters say about 25-30 tornadoes touch down in western Iowa each year, and Monona County - where the camp is located - gets hit roughly every two years.
Crystal Meier, spokeswoman for the Girl Scouts of Greater Iowa, said all five Girl Scout camps in Iowa have basements or reinforced buildings designed as storm shelters.
Girl Scout and Boy Scout camps near the south-central Nebraska town of Grand Island built reinforced concrete bunkers in a hillside a year after a 1980 tornado destroyed much of the town's business district.
"I don't think you should be out in any campground, especially a Girl Scout or Boy Scout camp during the summer," without a shelter, said Kathy Andrews, property manager at Camp Cosmopolitan, the girls' camp near Grand Island. "It's silly to think that ... won't happen to us."
Dave Plond, Scout executive for the Overland Trails Council in Grand Island, said the shelter at the Boy Scout camp can hold 400-500 people and is used "probably two times a year or more."
"We've already been in it twice this year," he said.
But he's not sure if the Scouts should make shelters mandatory at all camps.
"I think it's up to each board and each individual Scout council board," he said, though he added that his council is "extremely happy" to have one.
The Boy Scout camps owned by the Mid-America Council that have storm shelters have less land than Little Sioux, an 1,800-acre "high adventure" camp where Scouts often go into the back country on hikes and camp in isolated areas.
Copyright 2018 The Associated Press. All rights reserved. This material may not be published, broadcast, rewritten or redistributed. We strive to uphold our values for every story published.