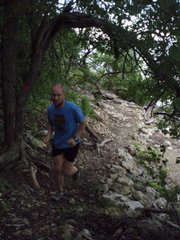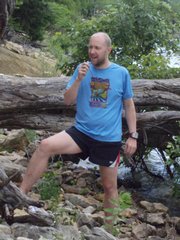 Organizers of most road-racing events tend to frown on portable-audio devices.
Ubiquitous CD/radio/MP3 players, they figure, can distract runners and drown out crucial environmental sounds, like traffic, and many races ban them altogether.
Trail runners tend to have an even greater disdain for the use of earbuds on a run. Touting the ability to commune with nature, they see iPods as a barrier between runner and the surrounding splendor.
And then there's Gary Henry, an avid trail runner who will hold a race Saturday that not only doesn't discourage racers from tuning in to a Zune, but actually requires it.
"I've never heard of anyone doing something like this before," Henry said.
Whether Saturday's PodTrod MP3-Mile Challenge at Clinton Lake is unique or merely unusual is uncertain.
But Henry, co-race director with buddy Ben Holmes, expects a heck of a good time.
"We do a little bit of joking around and stuff on the audio files," Henry said. "For instance, all of the courses have a section that goes down by the lake. We talk about Clinty, the legendary sea monster of Clinton Lake. We talk about Clinty and joke around, and my friend Greg Burger or myself make some roaring noises in the background. : It should be fun."
The race was the brainchild of Henry and Holmes. The two were cleaning the trails at Clinton Lake one day last September and started talking about how beautiful the north-shore trails were and how they wanted to share them.
"We were thinking about how cool it would be if you could take like a guided running tour through the trails with an iPod on, with somebody narrating in your iPod as you go, what all you're looking at, the history and all that," Henry said. "The thing is, whenever runners get together and start talking like that, it always evolves into, 'Would that be a good idea for a race?' So we started talking about how a race would work, how there'd be no course markings or anything. The only guidance you'd get would come from an audio file you were listening to on your MP3 player. We talked about it so much, it grabbed our imaginations, and before we knew it, it was taking on a life of its own."
Participants in the PodTrod MP3-Mile Challenge will log onto the associated Web site of the Kansas City Trail Nerds, at psychowyco.com.
There, after 9 tonight, runners will be able to download audio files to load onto their audio devices. The files will contain instructions on how to complete the run. There will be three courses, and participants won't know until the start whether they drew the most difficult of the three-plus-mile courses or one of the easier ones.
"The first cut is going to say something like, 'Welcome to the PodTrod MP3-Mile Challenge. You've selected the easiest course,' or 'the hardest course. The first thing you want to do is, look east. You'll see a small, brown building. Turn off your iPod and run to that building. When you get there, turn it back on for the next set of instructions.'
"That way, you'll work through 10 or 12 different songs or cuts, each one a separate audio file that will take you from the start through a somewhat-tortuous course back to the finish."
Along the way, racers will collect tokens to prove they followed the course correctly.
Henry isn't worried some scofflaw will try to get a head start by playing the files early.
"Even if you listen to them in advance - which would be very naughty - it wouldn't do you any good," he said. "Nobody knows where the start is."
Racers will be told on race day where to start. Signs will be posted past the ranger station at Clinton Lake State Park directing PodTrodders to the start.
At the end, there's a final surprise.
Runners will be told when the finish line is in sight to turn their players back on for a final instruction.
"It's very special, crucially important," Henry said. "They have to listen to it as they run into the finish, or else be disqualified. They would have gone through the entire, excruciating course, painstakingly collecting tokens to get within an eighth of a mile, and if you don't listen to that last set of instructions, they risk losing it all."
Race-day registrations will be accepted. There also will be sign-ups from 5 to 7 tonight at the brand-new Garry Gribble's Running Sports store in downtown Lawrence.
Copyright 2018 The Lawrence Journal-World. All rights reserved. This material may not be published, broadcast, rewritten or redistributed. We strive to uphold our values for every story published.