On the street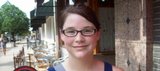 'Hop on Pop,' by Dr. Seuss. My pampa and I used to read it together, and he had a big belly that I would lay on while he read.
Sitting next to a pond near her home in Gorham, Maine, children's author and illustrator Cathryn Falwell found inspiration for two nature tales.
At 10:30 a.m. today, she will share those stories - "Turtle Splash" and her most recent book, "Scoot," about frogs - with up to 200 children at Lawrence Public Library.
"I just really enjoy watching all the turtles that are there," she said. "There are also lots of frogs. So I made a picture book for children on the pond."
Along with her artistic endeavors, Falwell said she was interested in encouraging children to spend more time outdoors.
"Anything we can do to entice them back out into nature is a good thing, so that was my other motivation," she said.
Part of that enticement is creating an interactive experience through a puppet show. Children will be the puppeteers at the library event, part of the summer reading program.
"I think the more you can get kids actually participating and sharing something instead of just being a passive audience, it triggers their creativity," Falwell said. "I like to do that."
Part of Falwell's own creative illustrations were sparked by her aunt, Sandy Garrett, of Lawrence. Garrett was an artist for Hallmark for 42 years before retiring in 2000.
"She always nurtured my creativity," Falwell said. "One of the things she always gave me were scraps of really beautiful papers. I was so intrigued by all the textures and colors of the papers, I really think that is what has helped me to use the cut-paper collages," she uses for her book illustrations.
Garrett, a 'Friend of the Library,' was equally instrumental in her niece's library visit. She said witnessing Falwell with the kids would be a "heart-warming experience," for her.
Joyce Steiner, youth services coordinator for the library, who said the children's summer reading program was going well, also is excited about Falwell's visit.
"Turtle Splash" and "Scoot" are among Steiner's favorite books to read to younger audiences at the library, she said.
"They are just very appealing," Steiner said. "The illustrations are wonderful. She just seems to have a real feel for the younger reader and the younger listener. They are picture books that are meant to be shared."
Falwell has been sharing her work at numerous schools and libraries across the country.
"For me it's just a shot of energy," Falwell said. "My kids are grown up now - they are 21 and 24. Since this is my audience, I love going in and seeing children. It gives me sort of a boost to my creativity, and I enjoy seeing them interact with the books."
Refreshments and crafts will be provided at this free event. The Raven Bookstore, 6 E. Seventh St., will have Falwell's book available for sale and for Falwell to sign.
Copyright 2018 The Lawrence Journal-World. All rights reserved. This material may not be published, broadcast, rewritten or redistributed. We strive to uphold our values for every story published.