On the street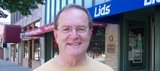 Not particularly. I'm still in sticker shock, I think. It's just another reminder that we need to do something about our fuel crisis and look for more alternative sources. It's certainly sad to think of $3.76 as cheap.
Washington — If it's a shock to pay $60, or even $100, to fill up your gas tank, you better get used to it.
Prices around $4 a gallon are likely to be here for quite a while.
The Energy Department said Wednesday it expects gasoline prices to peak in August at about $4.15 on average - a dime more than today. That might be encouraging for people who are beginning to think prices will keep climbing forever.
But wait: There won't be much relief. The government estimates that prices could stay near that level the rest of this year - and next.
Oh, and the government tends to err on the optimistic side.
Guy Caruso, head of the federal Energy Information Administration, delivered the sober news Wednesday at a congressional hearing on energy prices and the future of oil.
Even as he spoke, oil prices jumped again, edging for a time above $138 a barrel and putting yet more upward pressure on gasoline prices. By the end of the day the market seemed ready to set new records above $140 a barrel.
A drop in gasoline inventories, concerns about hurricanes that could disrupt Gulf of Mexico supplies, and most important the high oil prices all have contributed to a belief that the upward spiral of gasoline costs will continue at least for a few months, according to Caruso as well as private energy experts.
Motorists are paying $4.05 a gallon on average nationwide, and considerably more in some parts of the country, according to a survey of gas stations by AAA and the Oil Price Information Service. That's an increase of nearly $1 a gallon since January.
And little relief is in sight.
Prices are likely to remain close to or above $4 for the rest of the year and average $3.92 a gallon through 2009, the Energy Department agency forecast.
Crude oil prices are expected to average $126 a barrel in 2009, $4 a barrel higher than this year, as oil supplies and demand remain tight, Caruso told the House Select Committee on Energy Independence and Global Warming.
"The consensus view," said Rep. Edward Markey, D-Mass., the committee's chairman, "is that oil above $100 a barrel is going to be with us for some time."
Copyright 2018 The Associated Press. All rights reserved. This material may not be published, broadcast, rewritten or redistributed. We strive to uphold our values for every story published.