Photo Gallery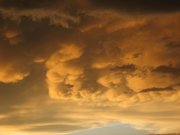 Thursday night's storm: reader-submitted photos
Douglas County escaped tornadoes that caused some damage in nearby areas tonight.
Lawrence and Douglas County only had heavy rainfall that is expected to continue through Friday.
"Basically for us we were lucky that it only ended up being heavy rainfall," said Jennifer Schack, 6News meteorologist.
Schack said said the worst Douglas County had was 1.17 inches of rainfall, which was recorded at about 8:40 p.m.
"I had no reports of hail in the city and no wind damage reports," she said.
Schack said there was a tornado reported in Shawnee County between 6 p.m. and 6:30 p.m. There was also a tornado spotted near Emporia that prompted a warning in Osage County. At that time "it was looking like it could have bene threatening for Douglas County, but it ended up not," Schack said. A tornado also touched down near Linwood at about 8 p.m.
8:23 p.m. Reporter Jesse Fray reports about a dozen downed trees and power lines down near Linwood Elementary School. This area is consistent with a tornado that is believed to have touched down there about 8:10 p.m, according to meteorologist Matt Elwell.
10:36 p.m. Less than 100 people are without power in Douglas County, including a number in central Lawrence along 23rd Street. Less than an hour earlier 632 Westar customers were without power. Other sporadic power outages have been reported in an area north of Eudora and west of Linwood, where there were reports of several tornadoes briefly on the ground.
Tornadoes were reported on the ground near Eudora, however they quickly retreated back into a storm heading toward Linwood and De Soto.
- A storm spotter reports tornado lowering as well as half-inch hail in far western Douglas County.
- Greg Thomas, Lawrence resident, reported seeing a large black cloud low to the ground from his back porch near Wakarusa Drive and Clinton Parkway. He said winds were picking up, he saw frequent lightning and the cloud was moving quickly toward Kasold.
"I've never seen a sky like this," he said. "It's pitch black. It's moving at a rapid rate going toward downtown."
- Storm spotters reported hail on the Farmer's Turnpike.
- A KTKA storm spotter reported seeing tight rotation in western Douglas County. The spotter observed the rotation from Kansas Highway 10. The storm was moving northeast and would likely hit Lecompton and Lawrence. There are no confirmed reports or a tornado or a tornado on the ground.
The National Weather Service has placed Douglas County under a tornado watch until 10:00 p.m.
Douglas County will be under a flash flood warning until 12:15 a.m.
According to the National Weather Service, flooding is possible tonight and into Friday in portions of east central Kansas. Thunderstorms are expected to develop through Friday afternoon.
A flash flood watch is issued when conditions are favorable for flash flooding and that a flood is possible, but may not necessarily occur.
Copyright 2018 The Lawrence Journal-World. All rights reserved. This material may not be published, broadcast, rewritten or redistributed. We strive to uphold our values for every story published.