Photo Gallery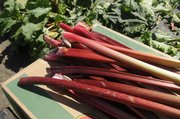 Rhubarb
They're here: stalks of natural fuchsia, standing out like bleeding celery in a maze of greens at the Lawrence Farmers' Market and your local grocer.
That's right, rhubarb is back, making its yearly appearance as the most fleeting and coveted of springtime treats.
Rhubarb's season lasts just six weeks, meaning the tart stalks of the "pie plant" can come and go before you know it.
But despite its nickname, rhubarb is much more than spring/summer pie staple. During its short season (and year-round thanks to its propensity to freeze well) everything from cake to sauce to wine can be made from the vegetable we eat as a fruit.
More than just pie
So what to do with the year's precious bounty of rhubarb?
Lou Britt of JB Farms says she has had all sorts of folks stop by her Saturday market stall, which recently sold out of 100 pounds of rhubarb in two hours, with different ideas on what to do with their bunch.
She says she had a chef come by and say he was planning to use it as a sauce for pork. Another lady came by and, after having no idea what it was, took home a bunch and made a pudding out of it to serve over ice cream. She was back the next week ready to buy more and try it with a bunch of different recipes.
Britt says it's common for someone, like that customer, to come up on any given Saturday without a clue about rhubarb. In fact, she herself used to be on the clueless side of things - but once she tried it she was hooked and coveted it just the same.
"I had a little boy come by and thought it was red celery, which I thought was pretty cute," she says. "I had actually never seen it until I moved to Kansas. I grew up in Baltimore and I had no clue what it was. I had absolutely no idea. The first way I had it, probably was in a crunch, you make crunch with rhubarb the same way you would make a crunch with any other fruit, with apple or blueberry."
Nancy O'Connor, author of the "Rolling Prairie Cookbook," also enjoys it in a crumble or in a cake, though one of the best ways she has found to use it is to roast it into a juicy, sweet topping.
"You would put it on a sheet pan and sprinkle a little sugar and butter on it and just roast it in the oven," O'Connor says. "And it gets a little golden and then it gets real soft and it releases the juices and it brings out the flavor a little bit more."
Bob Lominska of Hoyland Farm sells his organic rhubarb through the market and the Rolling Prairie Farmers Alliance. He says one of the best ways he's had it is in rhubarb wine. Locally, the Davenport Orchards and Winery makes the tart dessert wine.
"Rhubarb wine is fantastic," Lominska says. "You can make either sort of a heavy, sweet, sort of like a light port wine or you can make a drier, sort of like a Rhine wine with it. I haven't made it myself, I've just had the opportunity to drink it."
A resurgence of rhubarb
A late frost last year around Easter ruined the rhubarb harvest leaving its lovers with slim pickings.
"The rhubarb is growing really nice right then," Lominska says. "The rhubarb can take a couple of light freezes, but that was really, really severe and so it really set the rhubarb back, we hardly picked any last year."
That devastating frost is still having repercussions this season. Because of the stalks' growing pattern, some fields were unable to fully recover. Karen Pendleton, co-owner of Pendleton's Country Market, 1446 E. 1850 Road, lost her field of rhubarb last year, and because of her stalks' age, has to "rest" the field this year, meaning two years in a row of no rhubarb.
"Any other year, I'm pushing rhubarb," she says.
Though for those who love it, there's no need to peddle the stalks - they'll be eager to enjoy their six weeks with the fruit, hoarding it away as it freezes well for the other 46 weeks out of the year.
"People do value it. There's a lot of people who really like it," Lominska says. "It's kind of old-fashioned but kind of hip at the same time."
Rhubarb Bread Pudding
8 slices of bread, toasted
2 cups skim milk
2 tablespoons butter
3/4 cup honey
1/2 teaspoon vanilla
2 eggs, beaten
2 cups diced rhubarb (2 to 3 medium-sized stalks)
1/2 teaspoon cinnamon
1/4 teaspoon salt
Topping:
2 tablespoons turbinado or brown sugar
2 tablespoons instant oatmeal
1/4 teaspoon cinnamon
1/8 teaspoon grated nutmeg
Cut toast into cubes. Place in a medium-sized buttered baking dish (about 2 quart). Scald milk. Add butter to milk and stir until melted. Stir honey and vanilla into milk. Pour milk mixture over bread cubes and allow to sit 15 minutes. Preheat oven to 325 degrees. Add eggs, rhubarb, cinnamon and salt to bread mixture and stir carefully until well blended. Mix topping ingredients and sprinkle evenly over top of pudding. Bake, uncovered, for 45 to 50 minutes or until pudding is firm and golden. Serves 8.
- "Rolling Prairie Cookbook"
Rhubarb Cake
1/2 cup canola oil
1/2 cup honey
1/4 cup turbinado or brown sugar
2 eggs, beaten
1 teaspoon vanilla extract
1 teaspoon orange zest
2 cups flour (whole-wheat pastry, unbleached white or a combination)
1-1/2 teaspoons baking powder
1/2 teaspoon baking soda
3/4 teaspoon cinnamon
1/4 teaspoon allspice
1/2 teaspoon salt
1 cup buttermilk
2 cups diced rhubarb
Preheat oven to 350 degrees. In a large bowl, mix oil, honey, sugar, eggs, vanilla and orange zest. Sift in the flour, baking powder, baking soda, cinnamon, allspice and salt. Stir in the buttermilk. Finally, stir in the rhubarb. Pour cake batter into an oiled 7-1/2 x 12 inch pan. Bake for about 35 minutes, or until cake is golden and firm to the touch. Serves 12.
- "Rolling Prairie Cookbook"
Copyright 2018 The Lawrence Journal-World. All rights reserved. This material may not be published, broadcast, rewritten or redistributed. We strive to uphold our values for every story published.