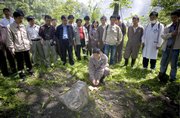 Wolong, China — Mao Mao the panda's remains were gently laid in a wooden crate and wheeled to a patch of ground in China's famed Wolong Nature Reserve where a freshly dug grave awaited.
The center's director stood cap in hand and shoveled in a few spades of dirt. Then Mao Mao's keeper stepped forward crying, and arranged two apples and a piece of bread by the grave. Three minutes of silence followed as workers gathered around the grave.
Nearly a month after she was crushed to death when China's devastating earthquake collapsed the wall of her enclosure, 9-year-old Mao Mao was laid to rest Tuesday in a quiet corner of the Wolong panda breeding center.
The facility was badly damaged by the May 12 quake but officials initially thought all 64 pandas had survived. Then they discovered two were missing. Mao Mao's body was discovered Monday, buried under debris.
As He Changgui, Mao Mao's keeper, turned away red-eyed after Tuesday's burial, the director of U.S.-based Pandas International, Suzanne Braden, put her arm around him.
"You must look after her babies, OK?" said Braden, who had arrived a day earlier to survey the quake damage and help in the recovery. "And their babies."
He nodded. "I will go back to see her every day," he said.
The loss of the panda, a mother of five, was a blow to the breeding program at Wolong, which continues to struggle to recover. The quake was centered just 20 miles away in the heart of Sichuan province's mountainous panda country, and five Wolong staff members were killed.
The endangered panda is revered as a national symbol in China, where about 1,600 pandas live in the wild, mostly in Sichuan and the neighboring province of Shaanxi. Another 180 have been bred in captivity.
For the staff at Wolong, Mao Mao's loss was all the more acute because she was killed in her prime, something that rarely happens, said David Wildt, who heads the Center for Species Survival at the Smithsonian's National Zoo in Washington.
"I don't think it's surprising there's a great deal of concern over the loss of this animal," said Wildt, who has worked closely with the Chinese panda program for more than a decade.
"The people who work at Wolong are completely dedicated to those animals. Most of the animals have been born there. The way they are raised, they are handled a great deal. People get to know these animals. They're all named and have their own personalities."
Ron Swaisgood, who worked at Wolong for seven years, said he'd never seen a funeral service like the one Tuesday.
"I think that this is probably a result that everyone is feeling very sentimental about the earthquake and this tragic loss of life. She didn't die of old age," said Swaisgood, who co-heads the Giant Panda Conservation Unit at the San Diego Zoo.
More than 69,000 people were killed by the quake, which left 5 million people homeless. Frequent aftershocks still rattle the area.
Copyright 2018 The Associated Press. All rights reserved. This material may not be published, broadcast, rewritten or redistributed. We strive to uphold our values for every story published.