Photo Gallery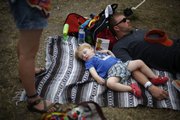 Wakarusa Fest 2008, Day 4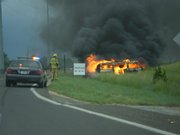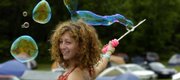 The fifth annual Wakarusa Music and Camping Festival starts on June 5th and runs through June 8th. Organizers are planning on more than 13,500 guests, which would make Clinton State Park the second-largest city in Douglas County until the festival wraps up. See videos, photo galleries, the Wak Talk blog, Best Bets, and more about the Wakarusa Fest.
2008 Wakarusa Festival
2008 Wakarusa Video Portraits
Festivalgoers who weathered a severe storm earlier in the week faced heavy winds, hail and torrential showers as the Wakarusa Music and Camping Festival came to a close Sunday.
"We basically lost two nights out of four," said Clay Cheney, of Manhattan. "What can you do? They can't control the weather."
A severe storm forced the festival to end early on its opening day Thursday. On Sunday, rains again disrupted performances.
While many didn't mind the rain, some festivalgoers wished they could have seen the musicians whose shows were canceled and not rescheduled.
"They didn't reschedule the shows," said Beth Larrabee, of Manhattan. "They did not extend the festival. They did not make any kind of compensation for the fact that they were canceling shows. That's a little bothersome to me personally."
But there were high points during the shows that did go on, some said.
Heather Fredley called Saturday night's performance by EOTO the concert highlight.
"It was crazy," the Olathe resident said. "The mud and everyone. It was just take your shoes off and go crazy. Everyone was dancing. It was amazing."
Tasha Riggins, media coordinator for the festival, said staff tried to ensure the safety of the revelers.
"Overall, we did the best we could given the situation," she said.
One festivalgoer escaped a vehicle fire Sunday afternoon. A Kansas City area man driving a 1981 Volkswagen that he had just purchased was driving near the festival's entrance, said Capt. Corky Kearney, of the Kanwaka Fire Department. The vehicle was leaking gasoline, backfired and caught fire. Kearney said it was a complete loss, but the man made it out of the vehicle without injuries.
Copyright 2018 The Lawrence Journal-World. All rights reserved. This material may not be published, broadcast, rewritten or redistributed. We strive to uphold our values for every story published.