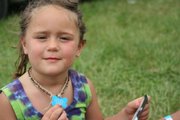 Past Event
featuring Emmylou Harris / Mickey Hart Band / David Grisman Quintet
When: Sunday, June 8, 2008, 10 a.m.
Where: Clinton State Park, Clinton Lake, Lawrence
Cost: $49 - $469
-->
-->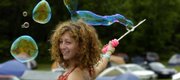 The fifth annual Wakarusa Music and Camping Festival starts on June 5th and runs through June 8th. Organizers are planning on more than 13,500 guests, which would make Clinton State Park the second-largest city in Douglas County until the festival wraps up. See videos, photo galleries, the Wak Talk blog, Best Bets, and more about the Wakarusa Fest.
2008 Wakarusa Festival
2008 Wakarusa Video Portraits
It's safe to say you get out of Wakarusa Music and Camping Festival what you put into it.
If you want the ringing in your ears from standing next to a stage speaker, be your guest.
Without anyone batting an eye you can get as creative and indulgent as you want with the body paints, dancing, performance arts and what have you.
Then there are those who take it a bit easier: the parents and tots.
Increasingly, families are attending the festival, which tries to provide an inviting and friendly atmosphere.
"It doesn't seem strange to have children here," said Zoe Beach, Lawrence retail store owner, as she pushed her 18-month-old son, Mika Seibel, in a stroller. He was asleep with his muddy feet poking out in the sun.
Zoe Beach grew up in Wales going to music festivals with her family, and she was excited to introduce her son to his first.
"He really likes music, he likes to dance," she said. "The music may be a little loud. The thing is you can't be up front."
There was even "a lot of good kids' food around," she said.
Mika had his first veggie corn dog.
The only real concern she and her husband, Ben Seibel, had was about the heat. They took precaution by dressing Mika in clothes to help keep him cool, and their stroller provided plenty of shade.
One father from Colorado took a unique cautionary step to protect his daughter Phoenix, 5, at the festival.
"I got a little nervous traveling without mom so I stopped at a pet store and got her a dog tag with her name and my number on it," said Matt Smith, of Colorado Springs.
"It's been great, a good bonding time," he said.
KT Walsh, Lawrence artist, was one of 15 Lawrence Arts Center volunteers who operated a children's tent at the festival.
"I understand from talking to different people that they've made a real effort to make it family friendly," she said.
At Kids Tent, bands played children's songs, and clay and paints were available for children to make their own creations. Nearby, a bicycle circle also offered invigorating entertainment.
"The bikes are pretty cool," said Will Laufer, 10, who swapped bicycle creations with his younger brother, Rowan Laufer, 7, to try out.
Walsh said the separation of adult-only areas from areas for children and food portion sizes geared to kids make the festival a family-friendly place.
"I think how wonderful it is to grow up and see the music and to be out in the Kansas wind and with friendly people," she said.
Copyright 2018 The Lawrence Journal-World. All rights reserved. This material may not be published, broadcast, rewritten or redistributed. We strive to uphold our values for every story published.