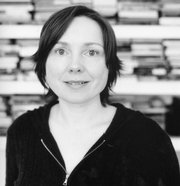 Lavinia Greenlaw, the British novelist and poet, remembers the first time that pop music let her down. Like many surly English teenagers in the late 1970s, Greenlaw was entranced by Joy Divison's Ian Curtis - a gangly, disturbingly intense singer whose morose lyrics were matched by his pained gyrations onstage.
But when the epileptic and severely depressed Curtis hanged himself in 1980 at age 23, leaving behind a wife and child, something snapped in Greenlaw's heart.
As she writes in her new memoir, "The Importance of Music to Girls," "I realized he was not (Goethe's) Werther, but a man in pain. I wasn't twenty-three but seventeen, and I was a girl."
For Greenlaw, Curtis' suicide was a lesson in how music shapes a person's identity but can't erase fundamental truths about who they are.
"Music has a dangerous sense of grandeur. It was a mistake in thinking that this man was an impossibly glamorous, tortured artist," Greenlaw said by phone from her home in London. "In many ways he was, but I didn't understand what that meant until he hanged himself."
In time, Greenlaw saw how such revelations signaled the turning points of growing up. They inspired her to write a memoir that would demonstrate how music can rescue a young girl from the sicknesses of adolescence while it also, in the end, becomes only a shorthand for the true challenges of young adulthood.
The memoir is laid out chronologically in vignettes of Greenlaw's life as an adolescent pop fan from the '60s through the '80s. There's the adorable (how the decision to be a Donny Osmond fan warranted the utmost seriousness at age 10), the poignantly musing (do girls who like boys in suits love the Jam, or did Paul Weller make skinny ties hot on guys?) and the genuinely rueful (when a friend overdoses on pills and Greenlaw wonders what music can cure a coma).
"I was writing this awful torrent of memoir and decided the only way to make anything out of it was to focus on specific memories so precisely that they opened up into something about broader experience," Greenlaw said. "I tried to not make it about my growing up with music, but about anyone growing up and how music can formulate that for them."
Changing decades
"Importance" isn't stridently about being female, the way that a Nick Hornby or Chuck Klosterman book can feel like it's aggressively about nerdy boys.
"I really didn't intend to write a book about the whole girl aspect at all," Greenlaw said. "But it became a book about how I tried to be a girl and how I was really bad at being a girl and had to in the end give in and accept that I was a girl. I was quite naive that I didn't foresee that it would be cast as some sort of counterblast to men writing about music."
What "Importance" does do is show how pop music is a perfect vessel for a teenager to explore the sense of self. Greenlaw's perpetual horror at her own record collection every time a genre goes out of style is a recurring joke. And a self-conscious episode when her ironic punk fashions are mocked - she's in America, visiting friends - is an example of a post-'60s social climate in which young women reaped the benefits of feminism but weren't quite sure what that meant for them as individuals.
"I thought it was possible to not be a girl, to just 'be.' My generation grew up in the '70s thinking the war between sexes was over and won," Greenlaw said. "I thought I could be exempt from the whole gender thing and didn't really notice that I was the only girl in the record shop hanging around in my raincoat talking about Martin Hannett and the digital delay on Joy Division's 'Atmosphere."'
"Importance" ends in the '80s, and a lot has changed in the interplay of gender, sexuality and pop music since then. Younger readers who grew up with Missy Elliott's avant-garde bawdiness, Liz Phair's lo-fi breakup wisdom and Paramore's feminist revision of stadium emo may wonder why Poly Styrene and Debbie Harry were such particularly inspiring figures for Greenlaw.
Jessica Hopper, a Chicago-based music writer currently writing a field manual for teen girls starting rock bands, notes the "glut of nostalgia for that era of music" coming largely from male writers and critics like Michael Azerrad and Simon Reynolds, who are documenting the punk and post-punk era.
"We owe it to girls today to give a full picture of how it changed women's lives" as well, Hopper said. "Someone will always say, 'But Kira Roessler was in Black Flag.' People pass off exceptions as if they were the rule."
Way to remember
The most moving passages in the book are often ones that, like Curtis' death, underscore how music is merely a means, not an end, to learning about others and oneself. Her main love in the book falls apart when they realize that music might have been the most prominent thing they shared: "Daniel and I discussed the world, but only in theory ... we lay in each others arms but all we did was listen to music."
"Then I thought music and books could change things, and I suppose I don't feel that now," Greenlaw said. "What I learned when writing the book was the loss of self-sufficiency. Then, if I had my books and records, I would be all right. Now I certainly need more than that, I need people."
By the end of the book seven years later, when Greenlaw is bringing her infant daughter home from the hospital and a surprise visit from Daniel prompts a recollection of treasured LPs.
Some of the particular cadences of Greenlaw's experience - the fevered genre allegiances, the LP sleeves as talismans - might seem foreign in today's everything-all-the-time music culture. She wonders if something got lost.
"For me, each phase has accumulated as a kind of autobiography. Sometimes I think young people are moving too fast, not absorbing anything," she said.
But Greenlaw understands that the most crucial - and empowering - thing about being a young music fan is how it gives you the space to come into your own self, whatever that might be.
"My daughter was playing a record by Panda Bear recently, and I went and downloaded it secretly," she said. "There's nothing more annoying than your mother walking past your bedroom and smugly saying, 'I've got that on vinyl.'"
Copyright 2018 The Lawrence Journal-World. All rights reserved. This material may not be published, broadcast, rewritten or redistributed. We strive to uphold our values for every story published.