Photo Gallery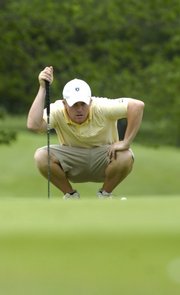 KGA Four-Ball championship
Alvamar Golf Course's 18th hole is a 375-yard par 3 with a pond situated in front of the green, forcing golfers to use an iron rather than a driver off the tee box.
Ask Ty Sanders and Cameron Bishop to describe the hole, and they might have to take a minute to think about it. They hardly ever got to play No. 18.
But that's just a testament to how dominant the two Wichita State golfers were in their drive to the 2008 Kansas Golf Association Four-Ball championship.
"That was a good thing we didn't play that, even though if we had to we would have done what we needed to do," Bishop said after he and Sanders defeated John Robbins and Ryan Deutsch, 4-and-3, for the four-ball title on Saturday. "But luckily we didn't need to. It was a good thing we only had to play it once - and I never would have told you that in a million years that we would play it just one time this week."
It was a given that Sanders and Bishop would play No. 18 at least once Saturday, with the championship match being a 36-hole final. It marked the first and only time the Shockers teed off on the hole during their five rounds of match play.
The WSU players found themselves in an early hole after Robbins and Deutsch birdied the first two holes of the match. A bogey by the Washburn golfers on No. 3 and a birdie by Bishop on the fourth squared the match.
Back-to-back bogeys by the Wichita State twosome on the following holes had them back to 2-down.
"The pins are in really hard spots, and the wind is blowing 40 mph here, so it was hard," Sanders said. "It almost turned into a survival test, more than a birdie-making-type event."
By the 11th hole, Bishop and Sanders had their first lead of the match after a bogey by Robbins and Deutsch.
The Shockers never relinquished the lead thanks in part to picking up five of their eight birdies on the day over the final 14 holes.
"I think we felt a little added pressure because we had been in the finals the previous year," said Sanders, referring to their loss in the 2007 championship match to Chad Roesler and Conrad Roberts. "I think we really wanted to pull it out with a 'W' this year, for sure. It feels awesome."
After struggling with his swing most of the day, Sanders had two shots down the stretch that closed the match on Robbins and Deutsch.
First on No. 13 - a 430-yard par 4 - Sanders chipped in for birdie to take a three-hole lead with five remaining.
Robbins nearly did the same thing on the previous hole, but his birdie attempt on the par-3 12th rattled around the pin and out. Had it dropped, the Washburn duo would have been at just 1-down.
"I thought about that, too," Sanders said. "That ran through my mind right after I hit it. I guess that's just how the game goes. It can go either way at any time. That certainly gave us a huge momentum swing and was definitely a turning point in the match. I think we had our heads held high right after that."
Following his chip-in, Sanders stuck his approach shot six inches from the hole and sent the match to dormie-4 (4-up with four to play) heading to No. 15.
For the last several years, Sanders and Bishop had heard all about winning the KGA Four-Ball championship from Brandon Hermreck and Zac Potter, who defeated former Kansas University golfers Gary Woodland and Luke Trammell, 5-and-4, in the 2006 tournament.
Potter and Hermreck played with the 2008 champs at Wichita State. Hermreck, who transferred to Kansas University before this year, was on hand to watch his former teammates finally match his achievement.
"They've been giving us crap," Bishop said. "Even before we left today, it was just like 'OK, let's see if you can finally win.' So that's why I told him (Hermreck) at the end, 'We won!' and then he said, 'But you didn't win it 5-and-4.' But now we don't have to get crap from them any more. It's great - especially since they're younger than I am."
Copyright 2018 The Lawrence Journal-World. All rights reserved. This material may not be published, broadcast, rewritten or redistributed. We strive to uphold our values for every story published.