Photo Gallery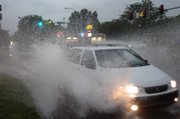 Severe Weather - June 8, 2008
The severe thunderstorm warning for all of Douglas County expired at 7 p.m. another warning for those living in southern Douglas County and northern Franklin County has expired as well.
A flash flood warning has also been issued for Douglas County and east-central Kansas.
As of 7:16 p.m., 876 people in Douglas County were without power.
Performances at Wakarusa Music and Camping Festival are in a rain delay. Around 6 p.m., organizers were watching the radar to see whether the skies would clear.
Douglas, Leavenworth, and Wyandotte counties are under a severe thunderstorm watch until 8 p.m., 6News meteorologist Sarah Jones said. Currently, Douglas County is experiencing 40-50 mph winds, heavy rain and a lot of lightning. Pea-sized hail also is falling.
Jones said the conditions will continue for about 30 minutes locally and then clear, but there is another chance for thunderstorms and heavy rain as we head into Monday morning.
There was a power surge on the west side of Lawrence. Power was out for about 30 seconds and then returned.
Copyright 2017 The Lawrence Journal-World. All rights reserved. This material may not be published, broadcast, rewritten or redistributed. We strive to uphold our values for every story published.