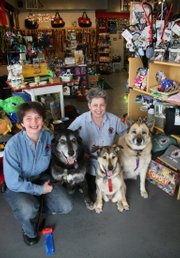 With three cats, two dogs, guinea pigs and a bearded dragon, Susan Davis has figures she's spent $10,000 during the past five years on visits to the veterinarian and on medications.
Throw in vitamins, organic pet food and other items intended to promote a healthy lifestyle for her pets, and she's probably spent twice that.
"I try not to look at my credit card bills very often," she said. "My strategy is denial. There's vacations I might have taken, but I thought, 'Wow, there's not so much money these days. I wonder where it's going.'"
Here's where some of it went:
¢ More than $1,000 to have one dog's stomach pumped after the dog discovered, and quickly devoured, a pound and a half of raisins, which are toxic to dogs.
¢ $400 each time her arthritic Labrador retriever sees a specialist in Pennsylvania.
¢ More than $1,500 to treat her son's bearded dragon for a mysterious ailment that required a hospital stay.
"Oh, my gosh, I was horrified," she said.
Health care expenses are rising, not only for humans but also for their pets.
Affording Fido
According to the 2007-08 National Pet Owners Survey, 63 percent of U.S. households - 71.1 million homes - include a pet. Many of the pet owners are baby boomers no longer burdened with the cost of raising children and are willing to use whatever disposable income they have to increase the quality of life of their furry, or scaly, companions.
"As we become a more pet-friendly environment, people want to take care of their pets more," said Jerrold Boone, a veterinarian at Adams Morgan Animal Hospital in Washington, D.C.
Veterinarians and financial planners say that anyone thinking of buying or adopting a pet should consider the potential costs beforehand, especially if they want purebred dogs, which tend to have more health problems than mixed breeds.
"It's not unusual to have bills over $1,000, and that can have a major impact when people are not ready for that," said Anna Worth, a veterinarian and president of the American Animal Hospital Association. "Not only do you need to feed and house and water this wonderful new pet in your family, but you have to figure out how much it's going to cost to do preventative care each year. And what if something major happens?"
According to the American Pet Products Manufacturers Association, pet owners spent $10.1 billion on veterinary care and $9.8 billion on supplies and over-the-counter medicines last year. The American Veterinary Medical Association (AVMA) found that owners spent $24.5 billion on veterinary medicine in 2006, more than double what they paid 10 years earlier.
Kitty CAT scans?
One reason for the higher costs is not altogether a bad one. It used to be that a seriously sick animal would have to be euthanized. Now, MRIs, ultrasounds and CAT scans are regularly used to detect illnesses in pets.
Heart surgery, kidney transplants, laser surgery and even chemotherapy are among the many viable options. Alternative treatments such as acupuncture are also available. And there are more veterinary specialists to handle complicated conditions. With that expertise, however, comes a higher price tag.
"Certainly we have seen an increasing level of sophistication in the last five or 10 years. As we see the bond between pet owners and their pets grow, they are demanding more sophistication," said Ron DeHaven, an officer of the AVMA. "It rivals human medicine."
Longevity breeds problems. As is the case with humans, pets' bodies wear out the older they get. And they're not just experiencing the typical aches and pains of old age. They are also developing chronic diseases, such as cancer and diabetes.
Pennye Jones-Napier, of Washington, lost her dog Elijah Blue, an Akita husky shepherd mix, to lupus and anal cancer last year. The dog was not a candidate for chemotherapy, so Jones-Napier decided on surgery to remove the tumor. She chose a surgeon in New York renowned for the procedure.
Elijah Blue initially seemed to respond well, but weeks later, he fell ill again. The dog had a second surgery at a Washington hospital but died a month later at the age of 8.
Jones-Napier, co-owner of the pet-supply store Big Bad Woof, said she did not regret the first surgery. She is not so sure about the second.
"I thought he might be able to beat it," she said. "In hindsight, I might not do it again. It took a terrible toll on him."
It also took a toll on her finances. All told, Jones-Napier spent about $14,000 for both surgeries plus food supplements. She had enough cash for the first procedure.
Not so for the second.
"That one really hurt," she said. "I had worked really hard to pay off my credit cards."
Often pet owners are faced with a difficult dilemma: Spend hundreds, even thousands, of dollars on a treatment that may or may not work, that may or may not make the animal suffer more, or let go?
Pet insurance
To manage pet costs, Mark Collar, chief executive of Collar Financial Strategies in Illinois, suggests stashing at least $50 a month in a U.S. government bond or a fund that invests in Treasurys. Or you can simply set money aside in a savings account, other planners and vets said.
Another option is to pay for pet health insurance. Policies vary in price but typically cost about $30 to $50 a month.
Fewer than 4 percent of American pets are insured, according to a study released last year by the American Pet Products Manufacturers Association. But the industry is growing, with more than two dozen companies offering plans.
The industry sold $230 million in policies in 2006, according to Consumer Reports.
Vets and financial planners warn pet owners to be wary of policies. Many policies have restrictions, such as not insuring older animals or breeds that are prone to certain ailments.
There is also plenty you can do to keep your pet from getting seriously ill. The most important thing, Boone and other vets said, is to take your pet in for regular checkups, preferably twice a year.
Copyright 2018 The Lawrence Journal-World. All rights reserved. This material may not be published, broadcast, rewritten or redistributed. We strive to uphold our values for every story published.