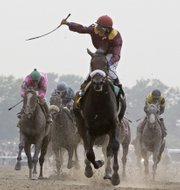 Elmont, N.Y. — Big Brown loped along four-wide in third on the backstretch, waiting to pounce. The pace had been moderate, and jockey Kent Desormeaux was where he wanted to be. Suddenly, a sickening realization hit. When he asked his undefeated superstar to become an immortal, Big Brown felt lifeless, with defeat a foregone conclusion.
On a sultry afternoon when America anticipated a coronation, millions of television viewers and a crowd of 94,476 at Belmont Park saw the hero of the spring stagger in last. For the 30th consecutive year, there would be no Triple Crown. For the seventh time since 1997, two out of three was no good, and this one was the worst of them all.
"I think I'm numb," Desormeaux said. "Feeling lost, with no emotion whatsoever."
For the first time, the 3-10 favorite could not validate trainer Rick Dutrow's boasts. "I don't really know how I feel," Dutrow said. "It certainly seems that Kent did the right thing in pulling him up. When they turned for home, something wasn't right."
Far ahead of Big Brown, 38-1 shot Da' Tara and 22-year-old jockey Alan Garcia completed a wire-to-wire victory by 51â4 lengths over Denis of Cork. The only ones who cared were those who had bet the $79 winner and the $659 exacta. Anak Nakal and Ready's Echo dead-heated for third, eight lengths behind Da' Tara. The time for 11â2 miles was 2:29.65, the slowest Belmont since 70-1 shot Sarava won in 2002.
Until there were five furlongs left to run, there was no hint that Big Brown was about to fall apart. Although he was steadied sharply along the inside entering the first turn, he was in a good stalking position while wide down the backstretch.
"When we hit the five-eighths pole, I was keeping an eye on the horse in front," Desormeaux said. "I said, 'Let's engage; let's keep him honest.' Then I had no horse. There were no popped tires. I just ran out of gas. I realized something was wrong. ... He's the best horse I've ever been on, so I took care of him."
Ten years after losing the Triple Crown by a nose on Real Quiet, Desormeaux was more bewildered than depressed. Being nailed at the wire is brutal; having to walk across it is bizarre.
"Whenever I lose by less than a length, I always think there's something I could have done," he said. "Real Quiet, that ate me up. This one will never eat me up."
In upper stretch, Desormeaux pulled up the horse whose instant acceleration blew apart the Kentucky Derby and the Preakness. Instead of bursting clear, this time Big Brown was going sideways toward the outside rail.
"Maybe it was the foot. Who knows?" Desormeaux said, referring to the patched quarter crack on the colt's left front hoof. "I just thought that in this horse's best interest, let's just get him back to the barn."
He dismounted, unsaddled Big Brown and gave him a pat. Thanks for the memories, even if this day was unforgettable for all the wrong reasons.
As he did in 2004, the last time a Triple Crown was on the line, trainer Nick Zito played the spoiler. Just like Birdstone, who brought down Smarty Jones, Da' Tara made a surprise appearance in the winner's circle.
"I salute Big Brown, he's still the champion," Zito said. "He's a special horse, but he just wasn't himself today and we took advantage."
When asked what happened to Big Brown, Dr. Larry Bramlage, the on-call veterinarian, said, "I have no idea. He looked fine. The veterinary team examined him after the race and there was no problem with soundness. He was not lame, and there was nothing obviously wrong. ... I couldn't see anything abnormal. I think we'll have to wait for a thorough veterinary examination."
For the first time in six races, Big Brown didn't win. Another depressing first: None of the other 18 Triple Crown hopefuls ever finished last in "The Test of the Champion."
Big Brown's stallion rights were sold to Three Chimneys Farm May 17, the day of the Preakness. There were no plans to race next year.
"Right now, it looks like he'll live a good life if he never races again," Dutrow said. "He didn't get the Triple Crown, but he got the Derby and Preakness, and that was great. He's in good shape. He's OK. We're very proud of him."
Copyright 2018 The Lawrence Journal-World. All rights reserved. This material may not be published, broadcast, rewritten or redistributed. We strive to uphold our values for every story published.