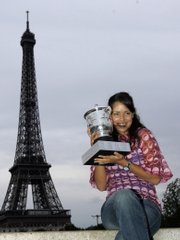 Paris — At last, Ana Ivanovic overcame her stage fright.
In two previous major finals, Ivanovic was so overwhelmed by the setting, so shaken by the stakes, that her focus fell apart and her shots went awry.
Not on this day.
Already assured of rising to No. 1 in the rankings for the first time, Ivanovic collected Grand Slam title No. 1 by beating Dinara Safina, 6-4, 6-3, in the French Open final Saturday.
Rather than erasing the memories of those lopsided losses in championship matches against Justine Henin at Roland Garros a year ago and against Maria Sharapova at the Australian Open in January, Ivanovic used the bitterness to help her.
"Many, many people ask me, 'Oh, you want to forget last year's final?' But I don't, because it was a great learning experience," said Ivanovic, a 20-year-old from Serbia.
She won only three games against Henin, then eight against Sharapova, and said of the latter defeat: "I had a few sleepless nights after that."
But in the months since, Ivanovic realized this: Part of her difficulty in those matches rested with either looking ahead - "Hey, maybe I can actually win this thing," she was thinking against Henin - or looking behind - failing to put a few key points out of her mind against Sharapova.
In the men's final today, No. 1 Roger Federer will meet No. 2 Rafael Nadal in their third consecutive title match at Roland Garros. Nadal seeks a fourth French Open championship, and Federer is hoping to complete a career Grand Slam.
Copyright 2018 The Lawrence Journal-World. All rights reserved. This material may not be published, broadcast, rewritten or redistributed. We strive to uphold our values for every story published.