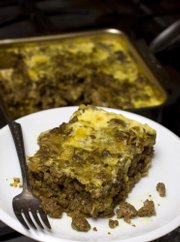 When he first immigrated to the U.S. from the Ivory Coast 19 years ago, Morou Outtara used a delicate hand when working the flavors of his homeland into the menus of the restaurants where he cooked.
Americans, he suspected, weren't quite ready for the bold West African flavors such as aromatic alligator peppers or creamy palm nut sauces that were common in his mother's home.
But as he saw diners grow more comfortable with assertive Asian and Indian seasonings, Outtara decided it was time to let African flavors play a more dominant role in his menus, rather than merely accent them.
So 18 months ago, he opened his upscale Farrah Olivia restaurant in Alexandria, Va., serving rib eyes rubbed with ground coffee and beignets stuffed with a mash of black eyed peas.
"We explored the Asian rim thing, and the Indian has been here forever," he says of the evolving American palate. "For six, seven years now people are playing with the idea of African food, and people are now starting to accept it."
Once limited mostly to immigrant enclaves, the robust flavors of African cuisines recently have begun following the trajectories of Italian, Latin, Asian and Middle Eastern foods - themselves once foreign flavors here.
"It's one of the last frontiers," says Kemp Minifie, executive food editor at Gourmet magazine. "As there is more awareness and more learning about Africa and that it isn't just one cuisine, there will be more restaurants doing it."
Americans' relentless appetite for newer, bolder flavors paired with foreign travel and awareness of global issues (even if only via high-profile celebrity adoptions), have made for easy passage of African flavors into new markets.
Until recently, for example, the editors at Food & Wine magazine felt it necessary to suggest substitutes whenever a recipe called for harissa, a spicy sauce from Tunisia. Today it is common enough to stand on its own.
"With the Madonnas and Angelina Jolies of the world, people who did not know where Namibia is do now," says Tina Ujlaki, executive food editor at Food & Wine.
Bobotie
3/4 cup milk, divided
2 slices white bread
1 teaspoon ghee or butter
1 large yellow onion, diced
4 cloves garlic, minced
1 jalapeno chili, seeds and ribs discarded, then diced
1 apple, peeled and diced
1 1/2 tablespoons curry powder
1 teaspoon turmeric
2 pounds lean ground beef or turkey
1 teaspoon brown sugar
1/2 cup golden raisins
1/3 cup slivered almonds
Salt and freshly ground black pepper, to taste
2 lemons
2 eggs
6 bay leaves
Preheat oven to 350 F. Lightly coat a 9-by-9-inch baking pan with cooking spray.
Place the slices of bread in a shallow bowl, then drizzle them with 1/4 cup milk. Set aside.
In a large Dutch oven over medium-high, melt the ghee. Add the onion, garlic and chili, then saute until the onion is translucent, about 5 minutes. Add the apple, curry powder and turmeric, then saute another 3 minutes.
Add the ground beef and saute, breaking up with a spoon, until cooked through and browned, about 8 minutes. Remove the pot from the heat.
Remove the bread from the milk, squeezing out and discarding any liquid. Break the bread into small pieces and mix into the pot.
Mix in the brown sugar, raisins, almonds, salt, pepper, the juice and zest of 1 lemon, and 1 egg. Transfer the mixture to the prepared baking pan, using a spatula to smooth the top.
Cut the remaining lemon into wedges and insert them vertically into the meat. Insert the bay leaves in the same manner. Cover the pan with foil, then bake for 20 minutes.
In a small bowl whisk together the remaining egg and 1/2 cup milk. Remove the pan from the oven and remove and discard the lemon wedges and bay leaves. Smooth the top of the meat.
Pour the milk and egg mixture over the meat, then bake, uncovered, for an additional 30 minutes, or until the top is lightly browned and set. Let stand 10 minutes before serving. Serves six.
Shrimp Piri Piri
8 red birds eye chilies, seeds and ribs removed, chopped
1/2 cup fresh lemon juice
1 tablespoon chopped fresh cilantro
1 tablespoon chopped fresh parsley
2 garlic cloves
1/2 cup plus 2 tablespoons olive oil, divided
12 raw jumbo shrimp, peeled and deveined
1/2 teaspoon salt
2 limes, quartered
12 large lettuce leaves (such as bibb or romaine)
To make the piri piri sauce, in a blender combine the chilies, lemon juice, cilantro, parsley and garlic. Puree until smooth. With the blender running, slowly pour in 1/2 cup olive oil and blend until well combined.
In a large bowl, toss the shrimp with half of the piri piri sauce. Refrigerate for 20 minutes.
In a large skillet, heat the remaining 2 tablespoons olive oil over medium. Add the shrimp and cook for 2 minutes per each side, or until opaque throughout.
Transfer the shrimp to a plate and sprinkle with the salt. Squeeze the lime quarters over the shrimp.
Spread 1/2 teaspoon of the remaining piri piri sauce over each lettuce leaf. Place a shrimp on each leaf and roll up to form a wrap. Serve immediately. Serves four starters.
- Recipe from Marcus Samuelsson's "The Soul of a New Cuisine," Wiley, 2006)
Copyright 2018 The Associated Press. All rights reserved. This material may not be published, broadcast, rewritten or redistributed. We strive to uphold our values for every story published.