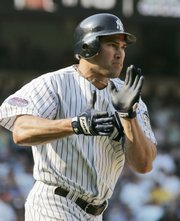 New York — Johnny Damon put on a hitting display for the record books and finished it off in style.
Damon went 6-for-6 with a game-winning single in the bottom of the ninth inning, rallying the New York Yankees to a wild 12-11 victory Saturday over the Kansas City Royals.
His six hits matched a Yankees record and tied the American League mark for a nine-inning game.
"It was pretty amazing. Pretty exhausting," Damon said.
New York overcame a pair of four-run deficits and a huge game by Kansas City's Jose Guillen, who hit a tiebreaking grand slam in the seventh and matched a club record with seven RBIs.
After David DeJesus put the Royals ahead 11-10 with a homer on the first pitch from Mariano Rivera (2-1) in the ninth, Jorge Posada connected against Joakim Soria with one out in the bottom half to tie it.
With two down, Wilson Betemit walked, and Melky Cabrera reached on an infield single. Damon pulled a 3-1 pitch from Soria (0-1) into the right-field corner for his sixth hit, setting a career high and equaling a Yankees record now accomplished three times.
"I have had a couple of opportunities, but I never got the sixth. It was a perfect time," Damon said.
Myril Hoag also went 6-for-6 for New York on June 6, 1934, at Boston, and Gerald Williams was 6-for-8 in a 15-inning game May 1, 1996, at Baltimore.
Omar Vizquel is the only player besides Damon to get six hits in a game at Yankee Stadium, going 6-for-7 with Cleveland on Aug. 31, 2004.
"All of the great players who have played here, it's pretty amazing that nobody's ever done it," Damon said.
Copyright 2018 The Associated Press. All rights reserved. This material may not be published, broadcast, rewritten or redistributed. We strive to uphold our values for every story published.