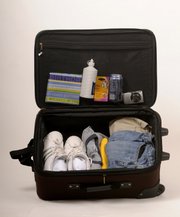 Packing for a trip - whether it's a road trip or flight, business or vacation - can be a challenge.
How can you manage to fit all of your closet and bathroom into one suitcase?
The answer, in short, is don't. Priorities are the key in packing, experts say, and some tips will help in making sure you and/or your family are ready for the big trip.
Here are some suggestions, according to the Transportation Security Administration, AAA and the Web site www.smartpacking.com.
¢ Don't overpack - suitcases can get heavy. Even if you have wheels, you might have to carry the luggage over uneven streets or other areas.
¢ Mix and match separates to give you more options on your trip.
¢ Label laptops. That way, if security officials have to inspect bags, there's no chance your laptop might get switched with another.
¢ Remember that most hotels have laundry facilities, as well as irons if your clothes get wrinkled.
¢ If you lock your luggage, use a lock approved by the TSA. Those locks allow TSA officials to inspect bags with a master key, if necessary.
¢ DO: Pack liquids over 3 ounces in your checked luggage. The Transportation Safety Administration only allows 3-ounce or less bottles in a 1 quart-sized clear plastic bag to be carried on.
¢ DO: Fold clothes into other clothes - instead of folding them over themselves - to help avoid wrinkles. Also, for dress shirts, fold them below the belt line so the wrinkles that do happen won't show.
¢ DO: Pack socks inside shoes to save space. Also, the TSA suggests packing shoes on top of other items inside a suitcase, if you're flying.
¢ DO: Roll shirts and other clothes to save space. Downside: This does cause more wrinkles.
¢ DON'T: Pack bags that include food or beverages.
¢ DON'T: Check baggage that includes cameras, laptops or other breakable electronics, no matter how well-protected they are. Jewelry and cash are also on the do-not-pack list.
¢ DON'T: Wrap presents before flying. There's always a possibility security workers will have to examine them and ruin your wrapping job.
¢ DON'T: Pack camera film into checked bags. The scanning equipment will damage the film.
Copyright 2018 The Lawrence Journal-World. All rights reserved. This material may not be published, broadcast, rewritten or redistributed. We strive to uphold our values for every story published.