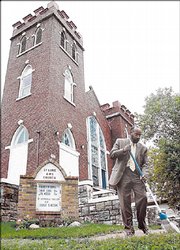 An historic Lawrence church has received a major grant to help renovate its aging building.
St. Luke African Methodist Episcopal Church, 900 N.Y., was awarded a $60,000 Heritage Trust Fund grant from the Kansas Historic Sites Board of Review. The grant was given to the Lawrence Preservation Alliance's Second Century Fund, a fund founded to preserve and restore the church.
The church that is standing now was built in 1910 for the congregation, which was founded 145 years ago and counts writer Langston Hughes as a childhood attendee. The church's current building is on the National Register of Historic Places.
Pastor Verdell Taylor has said the funds would be used along with other grants to stabilize the fragile church. It will be used to shore up the building and roof, two problem spots cited by a feasibility study done through another grant from the Heritage Trust Fund.
"This award allows us to finally begin construction work to preserve this cultural landmark for all of Lawrence," Taylor says. "The origins of America's African Methodist Episcopal Church movement are tied closely to African-Americans' struggle for freedom, a struggle with strong roots in Kansas. Our church established a congregation here while the struggle over slavery was still raging. Protecting this building will be a tribute to the sacrifices of our ancestors to gain and protect our freedoms."
The church hopes to complete the restoration of the building in time for the centennial of the building's construction in 2010.
Copyright 2018 The Lawrence Journal-World. All rights reserved. This material may not be published, broadcast, rewritten or redistributed. We strive to uphold our values for every story published.