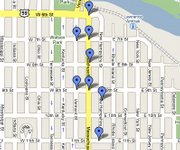 Here are the locations for works included in the 21st annual Lawrence Outdoor Downtown Sculpture Exhibition.
The scenery in downtown Lawrence has changed once again.
The street-corner artwork that is part of the Lawrence Outdoor Downtown Sculpture Exhibition has been swapped out for a new crop of entries as the Lawrence Arts Commission celebrates its 21st year of organizing the show.
"I think we're trying to broaden the spectrum of what people can see and experience in the downtown area," says Donna Griffin, chair of the show's organizing committee.
This year's chosen eight artists are from five states, and they include Alan Detrich and Jan Gaumnitz of Lawrence.
Artists receive a $750 commission for being selected. Griffin says 22 artists entered the contest this year, down from 30 last year. That has organizers meeting to discuss ways of increasing participation in future years.
"With the artists we have, we ended up with a variety of styles. We're pleased with what we have," Griffin says. "We might not always get so lucky if we have fewer entries."
Juror Bill Buchen, a New York-based artist, says "there was a wonderful diversity and variety to the submittals."
Those chosen include several abstract pieces (including Gaumnitz's piece), a mermaid and a depiction of the Bible interspersed with dinosaur bones (Detrich's entry).
"I like clean, clear vision, elegance, minimalism and a sense that it's looking to the future as well as referring to a history of art," Buchen says in describing his selection criteria. "There was also a sense of narrative to some of the works that was appealing."
Liability issues and vandalism also played into the selection. Pieces with sharp edges or that could be toppled easily aren't allowed.
Vandalism has been an issue in the past, with several pieces - including "Prayer Booth" and "Future Man" in 2007, "Polywiggle" in 2005 and "Self Portrait of a Midget" in 2004 - damaged in recent years.
Though that must be a consideration, Buchen says the value of outdoor sculpture exhibitions supersedes those concerns.
"It's a great idea to get out of the museum and into the public realm," Buchen says. "We need to break down barriers of what is art and where it is viewed."
Copyright 2018 The Lawrence Journal-World. All rights reserved. This material may not be published, broadcast, rewritten or redistributed. We strive to uphold our values for every story published.