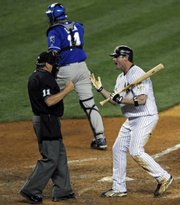 New York — Yankee Stadium is the last place anyone would expect Kansas City to stop its road losing streak.
Kyle Davies won his second consecutive start since being called up from the minors, and the struggling Royals earned a rare victory in the Bronx, shutting down New York, 2-1, Friday night to snap an 11-game skid away from home.
"He was great. Both his starts since he's come up, he's been very, very composed," said Kansas City skipper Trey Hillman, who managed in the Yankees' minor-league system from 1990-2001. "Here and Boston are probably the two most difficult places in the American League to stay composed. As a result of staying composed, he was able to continue to command his pitches."
David DeJesus hit an RBI single, and the Royals got splendid relief work from Ron Mahay and Joakim Soria to win for only the third time in 18 games overall.
They also got a break from plate umpire Ed Montague in the eighth inning.
With two on and two outs, Jason Giambi appeared to check his swing on Mahay's 3-2 pitch near his ankles. But Kansas City catcher John Buck jumped up, tagged Giambi and pumped his fist as Montague called the slugger out swinging.
"Checked swing. Close," Montague told a pool reporter. "I had him offering at the ball. I haven't looked at it."
Giambi argued vehemently and Yankees manager Joe Girardi waved his arms in disbelief from the dugout, yelling "Come on, Eddie!"
"It's over now. It doesn't matter," Giambi said. "I really love and respect Ed Montague. I would never say anything bad about him."
Soria pitched a one-hit ninth for his 13th save in 13 chances, handing Darrell Rasner (3-3) a hard-luck loss. Royals shortstop Tony Pena Jr., the son of Yankees coach Tony Pena, made a pretty play on Johnny Damon's grounder up the middle for the final out after entering as a defensive replacement.
With its first road victory since May 18 at Florida, Kansas City improved to 2-19 in its last 21 visits to Yankee Stadium - and 6-33 since the start of the 1998 season.
Copyright 2018 The Associated Press. All rights reserved. This material may not be published, broadcast, rewritten or redistributed. We strive to uphold our values for every story published.