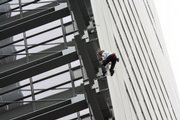 New York — The spectacle of two climbers scaling the 52-story New York Times tower within hours raised questions about the building's security and how to deter future daredevils.
The perilous thrills of climbing urban structures from the Eiffel Tower to the Empire State Building with no safety gear has drawn thousands of enthusiasts - both practitioners and fans.
"We can't celebrate it because it is dangerous - and it's illegal," said Joe Iurato, editor of New York-based Urban Climber magazine. "But some people have a strong urge to climb - even when there aren't any mountains in their back yards."
On Thursday morning, Frenchman Alain Robert took on the Times' soaring new tower on Manhattan's West Side in the name of global warming. New Yorker Renaldo Clarke followed in the evening, struggling to the top to promote awareness about the dangers of malaria.
Each was arrested on the roof. Both men faced charges of reckless endangerment, criminal trespass and disorderly conduct; Robert also was charged with making graffiti for posting a bright green banner on the 17th floor that read, "Global warming kills more people than a 9/11 every week."
On Friday, a cordon of police officers and private security guarded the building, a block south of the busy intersection of Eighth Avenue and 42nd Street.
Times officials wouldn't specify how they planned to keep away future climbers. "In addition to added security, design modifications are under consideration," spokeswoman Abbe Ruttenberg Serphos said in a statement.
By Friday evening, plywood was in place covering gaps that could be used to access the building's slatted exterior.
Iurato noted that while hundreds of thousands of people are proficient at rock climbing, far fewer have the skill to climb a building solo without rope or harness.
"First of all, it's illegal," he said. "Also, if you slip, unlike climbing on a rope, you're in serious trouble."
But he also said he wasn't surprised by the two climbs because the Renzo Piano design - which features horizontal slats on the exterior - was too tempting. "It looks like a 400-foot ladder," he said.
Robert acknowledged Friday that he chose the Times building because in terms of difficulty, "It's easy - 1 on a scale of 10."
The 45-year-old Frenchman has scaled more than 80 structures, including the Empire State Building, the Golden Gate Bridge, Chicago's Sears Tower and the Petronas Towers in Kuala Lumpur, Malaysia - twice.
Copyright 2018 The Associated Press. All rights reserved. This material may not be published, broadcast, rewritten or redistributed. We strive to uphold our values for every story published.