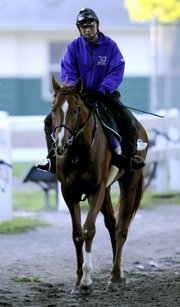 New York — Casino Drive has a suspect left hind hoof but there are no plans to scratch the Japanese horse from today's Belmont Stakes.
The Peter Pan winner skipped his morning workout Friday after his trainer noticed Casino Drive wasn't walking normally.
"We are not 100 percent happy with the movement of the hind leg," said Nobutaka Tada, racing manager for Casino Drive's Japanese connections. "We haven't withdrawn him, just giving him an easy day."
Casino Drive is the early second-choice behind Triple Crown favorite Big Brown.
Tada said a veterinarian saw the horse, whose hoof was being soaked in ice and epsom salts and then having heat applied.
"He probably stepped on something," Tada said. "He looks fine, he has a good appetite. He's not lame."
Tada said Casino Drive may have a stone bruise, which can be caused by walking on hard, rocky ground. The colt has been walked all over Belmont Park's horse paths this week, a training technique favored by the Japanese. American trainers typically gallop or jog their horses on the track in the days leading to a race.
Tada said a late afternoon exam showed the horse had improved since early Friday.
Copyright 2018 The Associated Press. All rights reserved. This material may not be published, broadcast, rewritten or redistributed. We strive to uphold our values for every story published.