Photo Gallery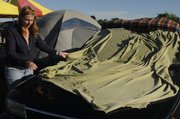 Wakarusa Fest 2008, Day 2
Day Two of the Wakarusa Music and Camping Festival brings the first of the big acts - but attendees will be spending a lot of their time getting dry.
Thursday night's storm soaked camping gear and other accessories, but failed to dampen the spirits of thousands of campers at the fifth annual Wakarusa Music and Camping Festival.
Friday started with campers airing out tents, blankets, towels and other gear. But they are still ready to enjoy day two.
Several campers said they enjoyed the lightning show Thursday night, but could've done without the heavy rains, and added that now it's time to party again.
Copyright 2018 The Lawrence Journal-World. All rights reserved. This material may not be published, broadcast, rewritten or redistributed. We strive to uphold our values for every story published.