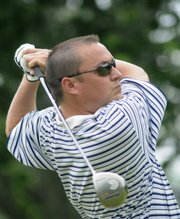 The smile on Keith Erickson's face was brighter than the peach polo he was wearing at Alvamar Golf Course on Thursday.
But what's not to smile about when you just defeated the 2007 Kansas Golf Association Four-Ball champions in the first round of match play by chipping in for a birdie on the final hole?
"I had never heard of those guys (Chad Roesler and Conrad Roberts), and a friend, Nate Sargent, told me they were the defending champs," Erickson said after he and teammate Michael Elafros beat Roberts and Roesler, 1-up. "I was like, 'Oh my gosh. We're the 11th seed and we got the defending champs? This is a bad dream.' But this just proves that anything can happen in match play."
With the match all squared heading to the 18th hole, Roberts and Roesler looked to be in the best position on the par-4 hole. Each golfer's ball was on the green and situated on the back-third of the green, where the pin was.
Meanwhile, Elafros was on the front edge of the green and would have had a tough time trying to two-putt.
Erickson's approach shot ended up just off the back of the green - which wasn't too bad of a position, considering the pin was uphill and about 20 feet away.
"I was staring over the chip and I was like, 'I can make this,'" Erickson said. "It was just one of those feelings that you know it's going to go in. That was just so awesome."
Elafros and Erickson held a 2-up lead through the first 14 holes. But things began to unravel a bit for the Johnson County Community College golfers on the par-3 15th hole.
After hitting his tee shot within six feet of the cup, Elafros couldn't save par - largely due to the pin placement.
"That was a turning point because they ended up winning the next hole as well and got it back to even," Elafros said. "That putt was tough. That hole placement was really tough and I ended up three-putting."
Roberts clinched No. 15 with a chip shot that lipped out, but stuck close enough to the hole to earn par.
Erickson and Elafros will attempt to complete a sweep of the top teams from a year ago. They will tee off against Ty Sanders and Cameron Bishop at 8 a.m. today.
Last year's runners-up, Sanders and Bishop, advanced through the first two rows with relative ease defeating Zac Burton and Daniel Wood, 7-and-6, in the first round and finishing out Brad Gershon and Bruce Gershon, 5-and-4, in Round 2.
"We finally got things in a rhythm," Sanders said. "We did a much better job of picking each other up on holes where one of us made a mistake and just played really well as a team today."
The Wichita State pair aren't the only notable names that look to be the favorites heading into today's quarterfinal and semifinal matches.
Brandon Hermreck and Zac Potter, the 2006 tournament champions, got past Kyle Capps and Shane Collins in the first round, 3-and-2. They then held on for a 1-up win against Chase Chamberlin and Jordan Smith in the second round.
"I don't know how many rounds we've played together in this tournament, but it's been quite a few," Potter said. "We are obviously pretty comfortable with each other and have a trust developed in one another that allows us to rely - and survive."
Hermreck and Potter will face John Robbins and Ryan Deutsch at 7:40 a.m.
Copyright 2018 The Lawrence Journal-World. All rights reserved. This material may not be published, broadcast, rewritten or redistributed. We strive to uphold our values for every story published.