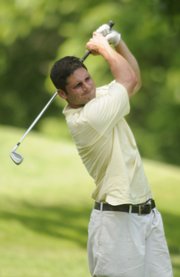 Golf is known as a gentleman's game for good reason.
And its best example was on display Wednesday in the 8:50 a.m. foursome at Alvamar Country Club in the Kansas Golf Association Four-Ball Championship.
Cameron Bishop and Ty Sanders were paired up with Conrad Roberts and Chad Roesler, the duo that defeated Bishop and Sanders in the championship match a year ago.
This time around, the four golfers weren't vying to knock each other out of the tournament, but simply survive the cut for the 32-team single-elimination bracket.
"Today we weren't playing them, we were playing the golf course trying to get a spot in match play," Sanders said. "It was a lot of fun to play with them, even though there may be a little bit of a competitive camaraderie there - but not nearly as much as in match play."
With the troubles Roberts and Roesler were having on the private side, they were definitely relieved that it wasn't match play against the Wichita State pair.
"That's probably a good thing," Roesler said. "We would have gotten closed out after about 10 holes."
Bishop and Sanders didn't seem to have too many problems playing Alvamar Country Club for the first time. The Shocker golfers shot a 3-under 69 - which included three bogeys over the 18 holes.
"I believe it's really course knowledge," Bishop said. "We had three bogeys out there, and I don't know if we would have done that if we knew the course. But for the most part, six birdies on a course you haven't played before is not too bad."
Roesler and Roberts, on the other hand, didn't look like a pair of golfers who had played the private side before.
The former Kansas University golfers shot even-par on the day, with three birdies and three bogies.
"It's so hard to play this course - at least we find it that way," Roberts said. "This course is so hard, the greens are so fast. If you're missing your shots just a little bit it really does penalize you."
The golfers will return to the public side today with the beginning of match play.
"It's a whole different mentality when it comes to match play," Roberts said. "Everyone starts swinging a lot freer, and you're not nearly as tight. Because here (in stroke play) you're trying to make a score, while in match play you're watching what the guys are doing when you're playing against them."
Kyle Smell and Scott Willman are the No. 1 seed in the Open Division behind a strong second-day showing. The pair shot a 9-under, 63 on the private side and finished with a two-day tally of 131.
Lawrence resident Mike Grosdidier and his teammate Gary Lucas are the top seed in the 16-team Masters Division after shooting 139 over the two days of stroke play.
Copyright 2017 The Lawrence Journal-World. All rights reserved. This material may not be published, broadcast, rewritten or redistributed. We strive to uphold our values for every story published.