Photo Gallery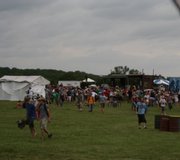 June 5, 2008 Severe Weather
A line of heavy storms moved through Douglas County and much of Kansas June 5, 2008.
Tasha Riggins - Wakarusa Weather
As of 11:08 p.m. Westar Energy had reports of 241 power outages in Douglas County. A severe thunderstorm that moved through the area Thursday night left as many as 587 custormers without power at the outage's peak..
Most outages are north of 23rd Street in Lawrence and just east of Massachusetts Street, according to a map on Westar's Web site.
The National Weather Service's thunderstorm warning expired at 10:15 p.m. A tornado watch remains in effect until midnight
While the storm that moved through did produce winds in the 70 mph range it was said to be capable of, it was only that intense in sporadic areas. A storm spotter in north Lawrence reported winds of 70 mph.
With the severe weather bearing down, organizers of the Wakarusa Music and Camping Festival ended the concert two hours early. David Barrett, event organizer, got on one band stage and advised attendees to seek shelter. He halted all concerts as well.
Chris Vdakes, who runs a taxi service at the festival, advised all of his employees to give people final rides and when it began raining to park the golf carts and seek shelter as well. Many people who could leave chose to leave the park immediately.
Douglas County Sheriff's Office Lt. Kari Wempe said organizers did not ask people to leave the campgrounds, but they did direct everyone to take shelter, in their cars if no where else. Others such as Dick Schaeffer of Belton, Mo., were unsure where to go. He said he was considering drive into the downtown area. He said Lawrence Douglas County Fire Medical personnel told him he could even seek shelter at a fire department.
Mikey Miller, 24, had just arrived at the festival at about 6 p.m. from Denver. He said he was driving through a storm under a black sky. He said he was going to wait out the storm.
The storm was moving at speeds of about 60 mph.
Copyright 2018 The Lawrence Journal-World. All rights reserved. This material may not be published, broadcast, rewritten or redistributed. We strive to uphold our values for every story published.