Photo Gallery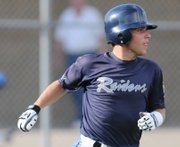 Raiders topple Royals
His home run may not have left the yard, but Matthew Abel will take it.
Abel's inside-the-park homer highlighted a five-run second inning that lifted the Lawrence Raiders to a 6-0 lightning-shortened victory over the K.C. Royals in their Legion baseball opener Tuesday night at Ice Field.
What made Abel's homer so special was the fact it was his first, he said, "since probably the fourth grade."
Abel has played a lot of baseball since then. He was an all-Class 4A performer at Eudora High this spring, and this is his second season with the Raiders.
Abel's memorable blast was a high drive that plugged the right-center-field gap.
"I knew for sure I could get two," Abel said, "then I picked up the outfielders and neither had a bead on it."
As Abel headed toward third base, Raiders' coach Shaun Edmondson, also his coach at Eudora High, didn't hesitate on the signal.
"I know he can run," Edmondson said, "and with two outs I figured we might as well give it a shot."
The Royals' relay throw was high and Abel slid safely into home plate.
"That's the aggressive style we play," Abel said. "Our goal is to go out and jump on teams."
The Raiders collected just five hits - the other four were singles, including a two-RBI grounder up the middle by Clint Pinnick - but drew six walks and Jake Green was hit twice by pitches.
Meanwhile, Raiders' starter Drew Hulse surrendered six hits and two walks in five innings, but was tough with men on base. The Royals stranded seven runners.
"I was focusing on keeping my fastball and change-up low," Hulse said, "since it was the first time I'd pitched in a game since last summer."
Hulse, a Lawrence High product, red-shirted as a member of Washburn University's baseball team last spring after undergoing knee surgery last December.
He hadn't pitched competitively since the State Legion championship last August, a game the Raiders lost, 8-2, to end their four-year streak of state titles.
"We're probably a lot more focused and driven because of that loss," Hulse said. "We thought for sure we were going to make it five in a row, but Salina outplayed us."
Tuesday's season opener was halted twice by lightning with the Raiders batting in the bottom of the fifth inning. The first delay lasted 15 minutes and the second 17 minutes.
Then as Alex Hardman stepped into the batter's box following the second stoppage, another lightning warning was issued, and all activity at Holcom Complex was called off for the remainder of the night.
"It's a safety issue, I understand that," Edmondson said, "but we were playing well and it takes a lot out of you when you don't finish what you started."
The lightning also wiped out a scheduled second game with the Royals.
The Raiders will travel to Parkville, Mo., tonight for two games with the K.C. Barnstormers, then return to Ice Field for a Thursday doubleheader against Coffeyville.
Copyright 2018 The Lawrence Journal-World. All rights reserved. This material may not be published, broadcast, rewritten or redistributed. We strive to uphold our values for every story published.