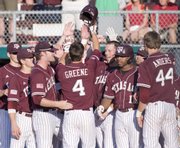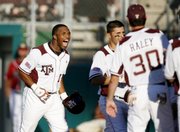 Big 12 Conference baseball pride was in serious jeopardy last weekend.
Of the six conference teams that made the NCAA Tournament, five of them were knocked out in the first weekend of regionals. Texas, which won national championships in 2002 and 2005, couldn't keep its three-year title pattern within reach in 2008.
Oklahoma State, Missouri and Nebraska, which were ranked in Baseball America's Top 25, fell in their respective regionals. Oklahoma surprised Vanderbilt twice, but double elimination caught up to the Sooners with a pair of losses to Arizona State.
The Big 12 was down to its last option Monday: Texas A&M.; Not a bad last option, considering the Aggies are 46-17 and won the Big 12 regular-season crown.
In its final do-or-die regionals game, Texas A&M; defeated Houston on Monday, 13-5, in College Station to advance as the lone Big 12 representative to the NCAA Super Regionals.
Here's the way the Super Regionals work: Think of it as the Sweet 16 in college basketball. Sixteen teams remain in eight head-to-head brackets. Take Texas A&M;'s opponent, Rice, for example: Texas A&M; will face Rice in a best-of-three series, which starts Saturday in Houston. The winner will advance as one of eight teams that make the June 14-25 College World Series in Omaha, Neb.
Texas A&M; and Rice faced each other on April 15 in College Station this season, with the Owls dominating, 11-2. Furthermore, Rice (45-13) knocked Texas A&M; out of the Super Regionals last season.
Saturday's game will be at 2 p.m. on ESPNU, while Sunday's 6 p.m. game will be televised on ESPN2. Monday's game, if necessary, will be played at 11:30 a.m. (ESPN) or 6 p.m. (ESPN2).
What Keegan says
Sound organizations realize the key to building a winner revolves around three components: 1. Pitching; 2. Pitching; 3. Pitching.
Three reasons the Kansas City Royals should make right-hander Aaron Crow the third overall selection in Thursday's free agent draft:
1. A wicked slider that has more north-south movement than most; 2. A great fastball - a four-seamer that reaches 98 mph on the gun and a two-seamer with a wicked tail that breaks in the opposite direction of his slider; 3. Location. Of his pitches, that is. The fact his college team was located a short drive to the east is a nice bonus, but not one of the primary reasons to take the live arm who went 13-0 for Missouri.
It's a mistake to think a starting rotation is built because five pitchers project as starters. Successful organizations realize it pays to go into every spring training with seven pitchers who project as starters. One will develop a sore arm and one either won't be quite ready for the big leagues or will be over the hill.
Sure the Royals need hitters, but those can be bought with free agent dollars.
- Tom Keegan
Copyright 2018 The Lawrence Journal-World. All rights reserved. This material may not be published, broadcast, rewritten or redistributed. We strive to uphold our values for every story published.