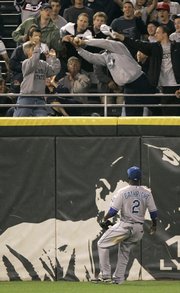 Chicago — Ozzie Guillen's tirade two days ago must have made an impression. The White Sox's offense perked up, and Chicago hit four homers Tuesday night to beat the Kansas City Royals, 9-5.
"I just think it's one of those things," said Nick Swisher, who's been in a long slump but hit his fifth homer.
"Ozzie is one of those guys, he loves this team, he cares so much about this team that he wants us to do well. Hey, it might have been that nice kick in the pants we needed and we went out there tonight and did what we know we are capable of doing."
Carlos Quentin, A.J. Pierzynski and Alexei Ramirez also homered against Royals starter Zack Greinke.
Guillen went on a rant Sunday after the White Sox lost their third straight against Tampa, scoring just four runs in the process. He called on general manager Ken Williams to make some changes or he would do so with the lineup.
Neither happened. Williams and Guillen met - Guillen said they cleared the air - and the manager did very little tinkering with his first-place team.
Guillen has been perturbed because the White Sox have had a chance to increase their lead in the AL Central with a key hit here or there. Instead, they were 5-for-35 with runners in scoring position in the four-game series against the Rays.
On Tuesday night they had the kind of at-bats he expects.
"We're not going to play like that every day but that's the expectation, the most we can," Guillen said. "We got good talent. It's a matter of putting it together. You look at the lineup and our lineup is strong. That's why it surprises me we don't do more damage."
Gavin Floyd (6-3), allowed four runs - two earned - and six hits in seven innings, including Mark Teahen's two-run homer in the seventh.
Pierzynski's first homer since April 22, a two-run shot, capped a four-run second against Greinke (5-3) and put the White Sox ahead, 6-0.
Greinke allowed nine hits and eight earned runs in six innings. His ERA rose from 2.88 to 3.56.
"I'm better than that," Greinke said. "I was bad the whole time. Up, nothing was sharp and every fly ball was a home run it seemed like. Especially this park, they always do good against me."
Greinke is now 2-7 in his career against the White Sox, including 0-5 at U.S. Cellular Field.
Quentin hit his 15th homer after Pierzynski's one-out single in the first. In the second, Joe Crede singled and Ramirez was credited with a double after Royals shortstop Tony Pena couldn't come up with his grounder and the ball went into the outfield. Orlando Cabrera then bounced a two-run single up the middle before Pierzynski hit his fourth homer.
"It was nice to out and get on him early," Pierzynski said. "We know we have guys who can hit, and we believe we are going to hit until the end of the year."
Copyright 2018 The Associated Press. All rights reserved. This material may not be published, broadcast, rewritten or redistributed. We strive to uphold our values for every story published.