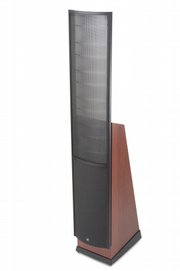 MartinLogan Ltd., a Lawrence-based designer and maker of high-end audio speakers, is taking its products to the world's largest online sales floor.
The company announced Tuesday that it would offer its Design Series loudspeakers, considered among the company's most affordable products, through a new boutique at Amazon.com.
The site - www.amazon .com/martinlogan - gives MartinLogan a chance to take some of its high-performance equipment to the most mass of markets.
"Amazon.com represents a new and exciting distribution opportunity," said Mike Lyons, MartinLogan president and chief executive officer. "Amazon is truly unique in their ability to offer consumers critical product information and assist each customer through the selection process."
The addition comes on top of the 650 domestic retail outlets - including Kief's in Lawrence - that already offer MartinLogan products, a roster than has grown by about 30 percent during the past two years. Many of the added retailers are Magnolia store-within-a-store outlets, offered in select Best Buy locations.
Signing on with Amazon.com - "one of the world's largest distribution channels" - simply is the next step, said Devin Zell, a MartinLogan spokesman.
"Being involved with Amazon enhances what we've been doing with bricks-and-mortar outlets," Zell said. "The increased exposure will result in more floor traffic everywhere - not just in the online realms, but through traditional outlets as well - through increased brand exposure."
The Amazon site already features stands, subwoofers and speakers, and sponsored links connect customers with installers and other related providers.
And with consumers increasingly turning to the Internet for research, Zell said, the Amazon site will be especially valuable by allowing consumers to see product descriptions, specifications and other information compiled directly by MartinLogan's own designers and engineers.
Noah Herschman, Amazon.com's director for audio and video, said that MartinLogan would fit in with Amazon's growing home theater business by providing "amazing" sound through offerings of high-performance equipment.
"We look forward to exposing the benefits of MartinLogan speakers to people who normally would not go into a consumer electronics store," Herschman said, in a statement.
MartinLogan's 80 employees design, engineer and manufacture speakers and other audio equipment at the company's complex at 21st and Delaware streets in Lawrence. Its electrostatic loudspeakers long have been coveted for their performance and appearance, having shown up in the homes of dedicated audiophiles, demanding professionals and celebrities including Lenny Kravitz and Albert Pujols.
Pairs of MartinLogan speakers range in price from $299 to $19,995 in the U.S.
Copyright 2018 The Lawrence Journal-World. All rights reserved. This material may not be published, broadcast, rewritten or redistributed. We strive to uphold our values for every story published.