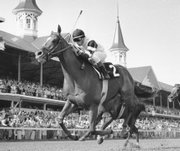 A nose. That's all that separated Real Quiet from racing immortality. He was beaten by the smallest of margins in the 1998 Belmont Stakes, a grueling race that has done in the Triple Crown attempts of six horses in the last 11 years.
Nobody knows better than Bob Baffert, the only trainer to lose the Belmont three times with horses that won the Kentucky Derby and Preakness, what the final 11â2 miles on the Triple Crown trail can do to a horse, trainer and jockey.
"When you get beat by an inch like that, it's easy to say, 'Did he do this, did he do that?'" Baffert said. "You got 11â2 miles, and you get beat by an inch, what are the chances of that?"
The three weeks between the Preakness and the Belmont can be agonizing for the human connections around a horse.
"Things can happen," Baffert said. "You're trying to read your horse, trying to keep him happy. Will he get the 11â2 miles, will he get the pace, the track? There's so many little things."
Six times in the last 11 years, horses have come to the Belmont with a chance to match Affirmed's 1978 feat. None succeeded. Now it's Big Brown's turn to try.
"He's a superior race horse," Baffert said about Big Brown. "He's handy, he has speed, he's tactical, he can stay out of trouble, he breaks well. I think the horse is the real deal."
Baffert thought that about Real Quiet 10 years ago. The colt owned a five-length lead with a quarter-mile left in the Belmont. Victory Gallop, second in the Derby and the Preakness, moved up on Real Quiet and jockey Kent Desormeaux, who rides Big Brown. The horses crossed the wire inches apart, but Victory Gallop won by a nose in a photo finish.
A stride past the finish line, Real Quiet had regained the lead.
"I thought he won it," Baffert said. "Now Kent gets a mulligan, and he gets to do it again."
In 1997, Baffert watched from the stands as Silver Charm fought off Free House for the lead with a quarter-mile to go and appeared to have clear sailing to the wire.
Then Touch Gold made a move on the far outside. Jockey Gary Stevens didn't see his rival, and Silver Charm was beaten by three-quarters of a length.
As soon as the gates sprang open in the 2002 Belmont and War Emblem nearly fell to his knees, Baffert knew he and his horse were doomed.
The winner was 70-1 shot Sarava. War Emblem straggled across in eighth, beaten by 191â2 lengths.
"He was so one-dimensional and such an irritable horse as it was, as soon as he was behind horses, I had to sit there for 21â2 minutes waiting for the race to be over," Baffert recalled.
Smarty Jones was the last colt to make a Triple Crown try in 2004. He came into the race on the track with its deep, sandy dirt surface undefeated at 9-0. Big Brown is perfect, too, at 5-0.
Nicknamed "The Test of the Champion," the Belmont is uncharted territory for 3-year-olds who never have run that far in their lives and likely won't again.
"They don't have any way to prep for it, and they don't have any use for it afterward," said John Servis, who trained Smarty Jones. "It's an odd race in this time of their careers."
The Triple Crown is run on a compressed schedule, with the Kentucky Derby, Preakness and Belmont just five weeks apart. Each race varies in distance, and the fields are crowded, with 20 horses typically contesting the Derby.
The Belmont is a race of strategy, with jockeys making split-second decisions on pace, placement and when to start their final run to the wire. Go too soon and a young colt could be gassed for the 1,097-foot stretch run. Wait too long and risk letting the lead horses get away.
Copyright 2018 The Associated Press. All rights reserved. This material may not be published, broadcast, rewritten or redistributed. We strive to uphold our values for every story published.