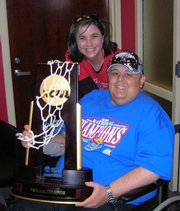 Past Event
When: Saturday, June 7, 2008, 4 p.m. to 9 p.m.
Where: Eagles Lodge, 1803 W. Sixth St., Lawrence
-->
-->
Jeff Young thought he had a bad case of food poisoning. Instead, he ended up in a fight for his life.
"You never know what's going to happen," the 31-year-old Lawrence resident said. "That morning I felt fine. I wanted to go play golf, and by that afternoon I was in the hospital."
Young, then 28, was diagnosed with stage four colon cancer, a disease that's rare for someone his age.
It's also a disease that's highly preventable if caught early, according to the American Cancer Society. Yet doctors don't recommend screening for the cancer until the age of 50.
"This can happen at 20, 30, 40, 50, and most colon cancer is caught in the late stages," said Jeff's wife, Abby Young. "It makes me so angry that not only us, but people everywhere are experiencing this at a young age, and there's no sense in it."
Part of Abby's anger comes from watching her husband of nearly five years battle the disease. Jeff has been through two surgeries and multiple rounds of chemotherapy.
And in March the couple got some bad news: The chemo was no longer working. Doctors told the Youngs that Jeff most likely had two to three months to live.
"My first reaction was it wasn't (me) they were talking about, and then it went directly to how am I going to tell people," Jeff Young said. "I've been worried about how it affects other people."
Even in the face of death, Jeff Young is hoping others can benefit from what he's gone through.
"Everyone's dealt a deck of cards," he said. "Mine was to have cancer and teach somebody."
The lessons the Youngs hope others will learn from their tragic situation: A simple colonoscopy could save your life.
"You know Jeff's not the only one, and that's what is so frustrating," Abby Young said. "He has something that's preventable that he shouldn't have to go through and nobody should have to go through. And it just boggles my mind that we have the technology out there to scan for this, and it's not done until you are 40 or 50. It just doesn't make sense."
Copyright 2018 The Lawrence Journal-World. All rights reserved. This material may not be published, broadcast, rewritten or redistributed. We strive to uphold our values for every story published.